QFX-Central Cinema opening at Civil Mall Sundhara
Posted in
BUSINESS
,
FEATURED
,
NEWS
on Sep 24, 2010 |
no responses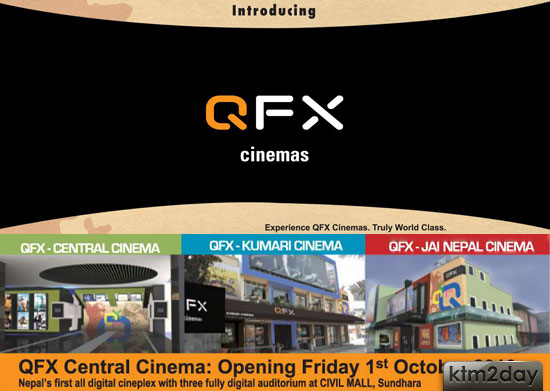 Quest Entertainment, a premier entertainment company, has launched an exhibition brand called QFX Cinemas. With QFX, Quest plans to bring all its cinema halls under one flag to ensure a better movie-going experience to its audiences, stated a press release of the company. Announcing the development, Nakim Uddin, chairman of the company, said, "We are entering the next chapter of our history with QFX, which is designed to ensure better quality cinemas at our cinema halls."
Following the development, Jai Nepal and Kumari will now be known as QFX-Jai Nepal and QFX-Kumari. "While these theatres remain unchanged in terms of infrastructure, the audience will now receive upgraded service from trained QFX staff," Uddin added. "The flagship project of QFX Cinemas will soon be opened at Civil Mall Sundhara, which is Nepal's first truly world-class cineplex."
Quest Entertainment, founded in 2001, started its first entrepreneurial venture with the renovation of Jai Nepal Cinema with the aim of providing a better movie-going experience than what was available in the city back then. The company says that it took the decision to launch QFX Cinemas for a premium brand experience and as an assurance of quality from the company.
Bookmark/Share it: