17th CAN Info-Tech 2011 to be held from February 1-6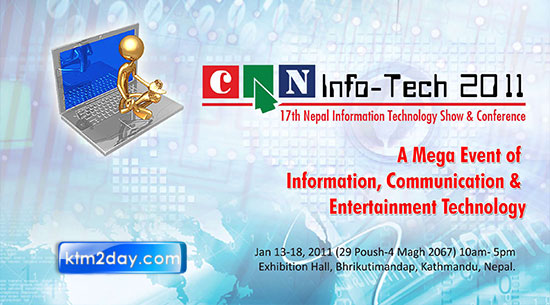 The Computer Association of Nepal (CAN) is all set to hold the 17th edition of Broadlink CAN InfoTech 2011 at Exhibition Hall, Bhrikuti Mandap. According to CAN, the event will run from Feb. 1-6.
"The six-day expo will witness participation of CAN's member associations and national as well as international companies. We believe that the expo will be helpful in promoting the IT sector of Nepal," said CAN in a statement.
Broadlink CAN InfoTech will feature as many as 300 stalls. Of the total, 183 stalls will be housed inside the exhibition hall, 88 stalls in truss and 23 stalls in the open. There will be six food stalls.
Among the participants in the expo, hardware sales and maintenance companies will make up 39 percent, power solution companies 1 percent, mobile accessories 8 percent, dealers and distributors 9 percent, ISP service providers 9 percent, printing service providers 3 percent, telecommunication companies 1 percent, training centres and colleges 7 percent and other companies 6 percent, said CAN in its statement.
The 11th edition of the Information Technology and Communication (ICT) Conference will be held under the theme "Building e-Nepal: Prospects and Challenges" on the sidelines of the expo. The conference will take place at Nepal Tourism Board from Feb. 2-3. The conference will witness participation of various government bodies, INGOs, private organizations and students, among various others. Likewise, the conference will also see paper presentations by experts in various topics such as e-government, e-tourism, e-security, e-education, e-health, e-business, e-export, e-entertainment, e-readiness and e-connectivity.
The expo is expected to attract 395,000 people. "Last year, we were able to lure 376,369 people. We plan to bring in more than 395,000 visitors this time around," said CAN in a statement. Tickets for the expo are priced at Rs 50 for general visitors and Rs 30 for students. Likewise, the ticket price for the last day of the event Business Day has been fixed at Rs 100.