UTL Nepal launches High Speed Internet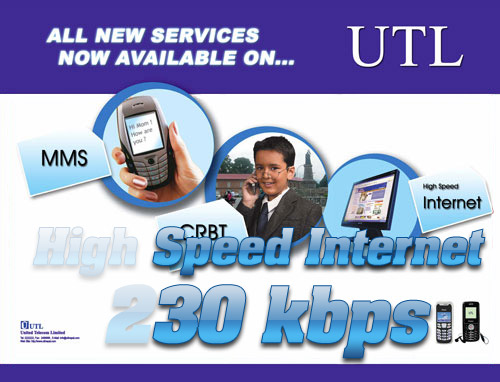 UTL steps into the Nepali market as an ISP for the first time breaking the barrier of rivalry between two other largest ISP's in Nepal; Worldlink and Nepal Telecom.
UTL Nepal has launched High Speed Internet access for a cheap price tag of Rs.500 excluding taxes. Subscribers can enjoy high speed unlimited internet access with 230 kbps of bandwidth.
This is the cheapest internet plan currently available in the market .  Nepal Telecom and Worldlink are offering 128kbps plan at Rs.904 and Rs. 1243 per month respectively. UTL is generously giving away double the bandwidth at half the price.
Service  is available to subscribers who already have UTL's deskphone .
Currently only two models of UTL's deskphones are supported for high speed internet access.
[Updates]…
UTL has started distributing prepaid RUIM to new subscribers which is available from its Head Office at Hattisar for a price tag of Rs. 250 (Rs.283 including VAT).
Under this scheme subscribers can have unlimited internet access for Rs. 565/month including VAT.
The internet activation process on the RUIM takes a day or two to activate upon which a subscriber can start using the service.
Currently two plans are available.
High speed internet with bandwidth 230 kbps.
Unlimited internet surfing – Rs.500
Unlimited night surfing (8pm-8am) – Rs.300
Subscribers can choose either a  compatible CDMA mobile phone or data card(wireless modem) that supports CDMA 2000 1X in order to connect to this service.
USB Modem – CDMA Data Card are available in the market for approx. Rs.2600.
"Currently, subscribers using this high speed internet service are complaining about not getting the true speed  as advertised by the company."
What's the Real Speed ?
Speedtest.net results show an average upload and download speed of 5Kb/s which is roughly around 40 kbps~dialup speed and the ISP details are mentioned as Indreni Complex rather than UTL(United Telecom Limited).
___________________________________
Pages :     1 —– 2 —– 3
___________________________________