YoByke Electric Scooters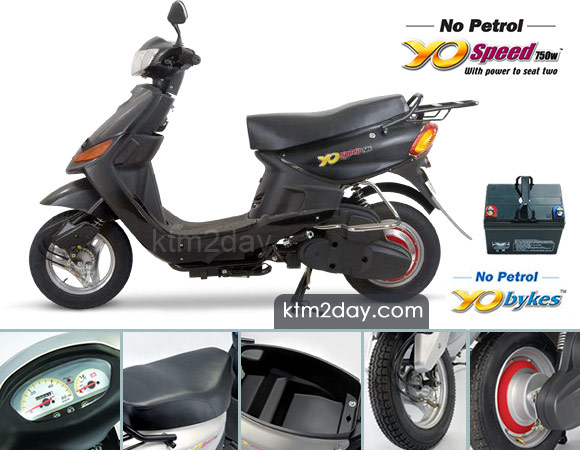 AVCO International on Friday unveiled YObyke electric two-wheelers by launching YO Speed in Nepali market. This is the first of the electric scooters of the brand and more could be introduced in the future, Pranavesh J Pradhan, manager at the sole distributor for the electric scooter´s MPR and Publicity Division, said.
YObyke was launched in India in 2006 by Electrotherm (India) Ltd. YObyke is now India´s largest selling electric two-wheeler brand, AVCO Holding and Investment Group Executive vice-chairperson said at the launch. "It charges as easily as a mobile phone and is extremely cost effective in an era of ballooning petrol prices," she said.
YO Speed is a 750W scooter with a torque of 45Nm at 150 rpm. AVCO has priced the electric scooter at Rs 125,000 but as an introductory offer, it is selling it at Rs 99,500. This also includes the cost of its four 12 volt batteries which have a combined cost of Rs 34,000. AVCO will provide three free servicings and a year´s warranty on manufacturing defects and a year´s extended warranty on batteries.
The scooter has a top speed of 45 kmph and a range of 70 to 75 kilometers if carrying 75 kg or less when the battery is fully charged. If it is carrying 130 kg, it will travel at 60 to 65 kmph when fully charged. According to AVCO, its electricity consumption is 1.6 units.
According to the distributors, the scooter´s operation cost comes to approximately Rs 100 for every 500 km. It also has two drive modes where the driver can choose between power and economy.
Drivers of the scooter will need a license and the scooters will also have license plates. However, the owner will not have to pay an annual tax to the department of transport but will have to renew the bluebook. YO Speed is available from AVCO´s showroom in Tinkune, Kathmandu and Bardaghat, Nawalparasi.
YO Speed
Introductory price: 99,500
Actual price: Rs 125,000
Charging time: 6 to 8 hours
Range: 70kmph to 75kmph @75kg
60kmph to 65kmph @130kg
Cost of operation: Rs 100/500km
Motor Power: [email protected]
Torque: [email protected]
Weight: 94.6 kg
Source : Republica