Domino's Pizza next in line after KFC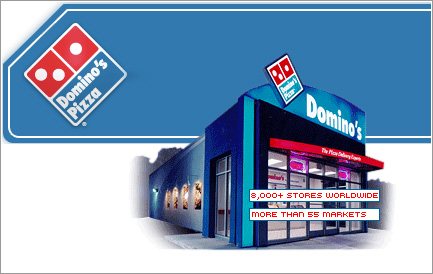 Jubilant FoodWorks, which runs the popular pizza chain Domino´s Pizza in India and Sri Lanka, is evaluating setting up shop in Nepal and Bangladesh.
The company holds the exclusive master franchisee rights for the Domino´s Pizza brand and operations for India, Nepal, Sri Lanka and Bangladesh. It also plans to add another 38 stores in India to take its store tally to 310 by the end of this financial year.
Senior vice president for finance, Jubilant FoodWorks, Ravi Shanker Gupta told Financial Chronicle "We are expanding our services in the country to have 310 stores by the end of this fiscal. We are also evaluating launching in Nepal and Bangladesh." Jubilant currently operates four Domino´s stores in Sri Lanka.
Gupta said the company was awaiting clearance from the Securities and Exchange Board of India (SEBI) to its draft red herring prospectus to raise funds for the expansion as also to part pay its Rs 83-crore debt. The company is offering 22.67 million of equity shares with a face value of Rs 10 each for cash. Of this, 20.40 million shares will be offered to the public.
The price band and minimum bid lot, to be decided by the company in consultation with the book running lead manager Kotak Mahindra Capital, is yet to be finalised.
He said that the home delivery segment, which contributed 65 per cent of the top line, would continue to be the priority area with new services on the anvil for consumers. This included extension of the online booking service to top metros. The service was launched earlier this year in Bangalore. The service is initially available to only regular customers.
The four-digit toll line service for order bookings too is being extended to all the top metros in the country.
But Domino´s is also making a strategic shift in its positioning here by offering its customers the dining experience at all its to be launched stores in the country. Gupta said: "Based on customer feedback, the sit down Domino´s experience has also been made available in big operating stores in the country. The dining experience concept would be available to all new stores with a minimum of 30 and a maximum of 75 packs offer depending upon the city infrastructure."