Flydubai starts four flights a week to Kathmandu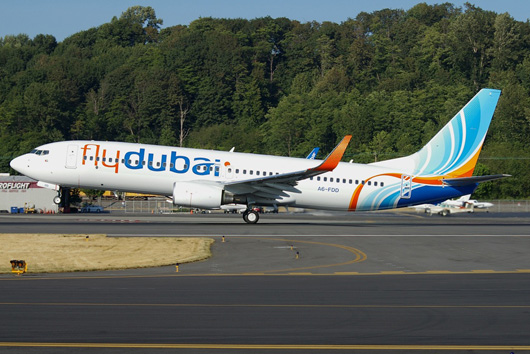 Flydubai, Dubai's first low cost carrier, landed for the first time at Tribhuwan International Airport (TIA) . Nepali travel and tourism entrepreneurs as well as State Minister of Civil Aviation and Tourism Shatrudhan Prasad Singh welcomed its first flight. Universal Tours and Travels is the general sales agent (GSA) of the airlines.
Flydubai CEO Ghaith Al Ghaith was also on board in the first flight. "This is a great time for Flydubai," he said adding that the airlines has already started flights on routes to Khartoum, Baku, Bahrain and now Kathmandu. Flydubai is a Dubai government enterprise which charges $175 for Kathmandu-Dubai one-way ticket.
"Our strategy is to combine well-known routes that enjoy a service from many airlines with routes that are less popular and underserved by the larger carriers. Kathmandu is a great destination with room for more services and I'm confident that Flydubai's simple, low cost fares will prove to be very popular on this route. Nepal is an experience waiting to happen, and we will make it happen," Al Ghaith added.
Minister Singh said, "The commencement of Flydubai's direct connection between Dubai and Kathmandu will provide greater access to the Nepali community in UAE and will surely enhance future trade, commerce, and tourism between the two countries. We are happy to know that Flydubai operating out of Dubai International Airport will provide greater access to world travelers from Dubai to Kathmandu with increased convenience."
Flydubai operates four flights a week to Kathmandu. FZ567 leaves Dubai International Airport Terminal 2 at 7am, and arrives at 12:40pm Nepali time on Tuesday, Thursday, Friday and Sunday. The return flight FZ568 leaves Kathmandu at 13:40 pm, arriving in Dubai at 17:10pm.
The Flydubai model is simple, with customers paying only for services they want to receive. The price includes all taxes and one piece of hand baggage weighing up to 10 kg per passenger. Passengers have the option to purchase checked-in baggage in advance, weighing up to 32 kg.