Flyovers to solve traffic jams in Kathmandu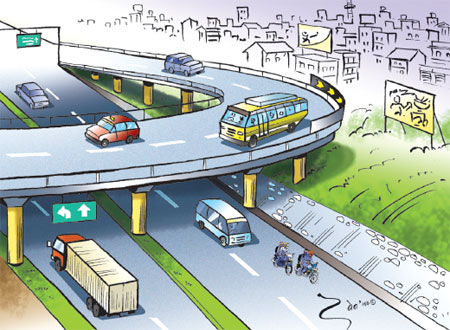 The government has come up with an ambitious plan to reduce traffic jam woes of the Valley denizens. Department of Road has begun a feasibility study and survey on war-footing for what is said to be a first ever project of its kind.
Engineer Karna Bahadur Ranabhat of Division Road Office under DoR told The Himalayan Times that flyovers will be constructed at Kalanki, Balaju, Narayan Gopal Chowk, Chabahil and Koteshwor, the areas vulnerable to traffic jams and recurring road mishaps.
"The project will signify a giant leap forward to give the denizens a respite from traffic jams and make the city a better place to live in," he added.
He said the construction would begin only after the survey and the feasibility study. He added that the flyovers would be two-laned.
"It would help us reduce traffic jams at the busy intersections," said Ranabhat. The number of vehicles far exceed the road space available in Kathmandu, much to the discomfort of the motorists and pedestrians.
The government will also construct 11 bridges above the Bagmati River, Bishnumati River and Dhobi Khola in Kathmandu in the current fiscal year. DoR has already started the construction work in Sinamangal, Koteshwor and Tokha. The estimated cost to construct 11 bridges is Rs 3.5 crore.
Decade-old concrete bridge above the Bagmati River linking Old Baneshwor to Sinamangal had caved in due to the impact of sand mining on the foundation pillar last year. A one-way diversion — constructed to ease the traffic flow — was also swept away by a flash flood on July 2.
The government has allocated Rs 4 crore to construct a concrete bridge above the Bagmati River. DoR is working in close coordination with Kathmandu Metropolitan City, Nepal Electricity Authority and Nepal Telecommunications to to speed up the construction.