CAN Infotech 2010 starts Jan 13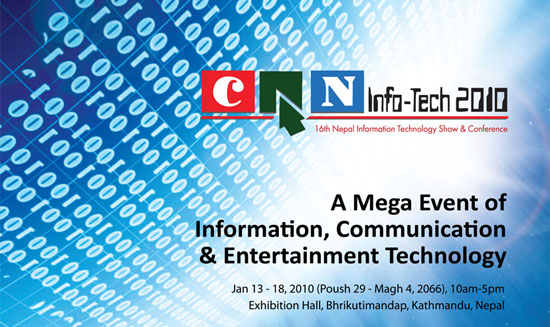 This year CAN Info-Tech 2010 is being organized at the exhibition hall, Bhrikuti Mandap, Kathmandu, Nepal from 14th to 19th January 2010 (6 days).
More than 200 companies representing national and international brands are expected to participate in CAN Info-Tech. During the trade show CAN will invite more than 25,000 official guests from around the world and expect more than 500,000 visitors during the event. This would be a significant leap in terms of popularity of CAN Info-Tech over the last 15 years.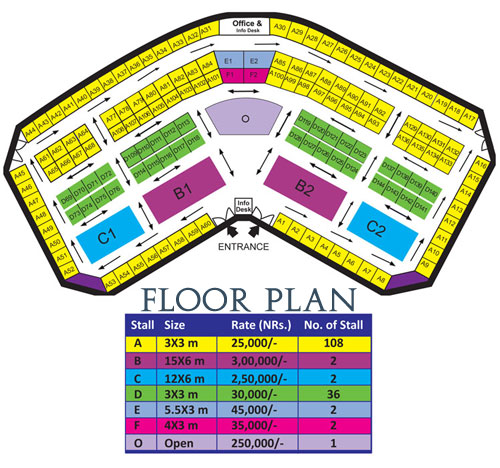 Preparation for the CAN INFO-TECH 2010-a mega event on information, communication and entertainment technology-is near completion with 90 percent of groundwork done. According to CAN-the event organiser-all the stalls have been already booked.
Suresh Karna, President of CAN said, "Exhibitors are all set to showcase latest technological innovations, latest products and services through 238 stalls at the venue."
Karna said that the main feature of the event would be the display of latest products and new services at a single place.
"This will be the finest place for exhibitors to promote and sell their products and also to send a message to the general public how the ICT sector is growing in Nepal," he added. This will be the 16th edition CAN INFO-TECH set to begin on Jan. 13 at the Exhibition Hall, Bhrikutimandap, Kathmandu.
The six-day event will showcase various brands of computers, laptops, servers, printers and accessories, power solutions, mobiles, networking and cabling, CCTV and security, IP communication, telephony and security, software, communication telecom and value added services.
Karna said that the enthusiasm from the exhibitors has been overwhelming. The event will be followed by IT conferences from Jan. 16-17 focusing on ICT sector and Nepal's economy. The organisers expect more than 350,000 visitors during the event.