BIG CINEMAS opens at Citycentre Shopping Centre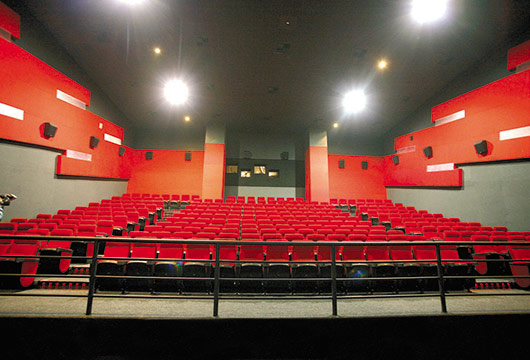 Cine Star, a division of the Triveni Group, on Thursday launched three multiplexes BIG Cinemas at the NLIC City Centre, Kamal Pokhari.
"Cine Star will be running these multiplexes under the name Big Cinemas with technical and managerial support of India's Reliance MediaWorks' Big Cinemas," said Rajendra Aryal, a director of Cine Star.
The three multiplexes have a seating capacity of 280, 285 and 305 seats each. They have launched by screening three films from Bollywood, Hollywood and Nepal entitled My Name is Khan, Wolman and Pahilo Pahilo Maya.
BIG Cinemas, a division of Reliance MediaWorks Limited, a member of the Reliance Anil Dhirubhai Ambani Group, is India's largest cinema chain with about 400 screens spread across India, US and Malaysia. After pioneering the IMAX experience in India, it recently launched 3D and 6D technology and is the only cinema chain to screen films in all three formats. It is also launching the first megaplexes in the country.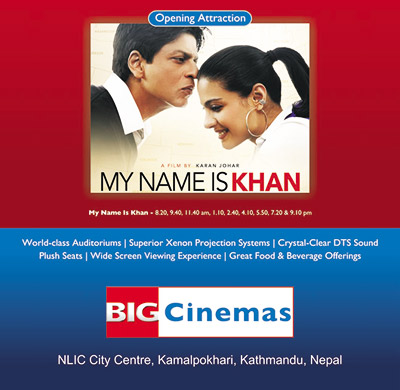 Cine Star is planning to run five shows daily at the multiplexes. According to Aryal, the ticket rates will not go above Rs. 250. Reliance MediaWorks is a member of the Anil Dhirubhai Ambani Group.
Big Cinemas claimed that it would provide romance, drama, comedy and action-packed movies at its three contemporary screening rooms.
The theatre has a state-of-the-art projection and sound system (both DTS and Dolby digital) with a wall-to-wall screen. The auditoriums are designed with wide luxurious pushback seats with ample leg space.
Govind Sanghai, director of the company, said, "We aim to reinvent the multiplex experience for Nepal and provide world class amenities to our audiences."
Similar Posts:
Fun Factory 4D Cinema @ CityCentre