NTY 2011 launched today formally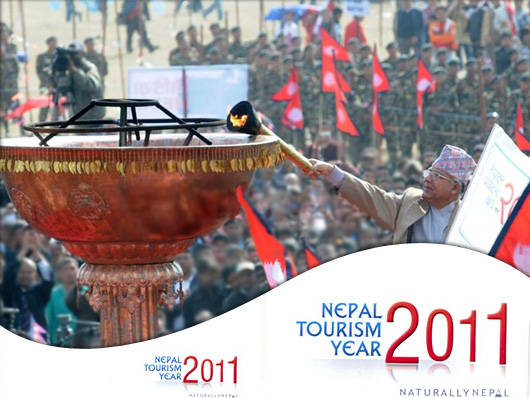 Prime Minister Madhav Kumar Nepal formally inaugurated the year-long tourism promotion campaign, Nepal Tourism Year 2011, by lighting a peace torch amid a ceremony in Kathmandu on Friday.
Highlighting the importance of tourism to the national economy, Nepal said tourism can play a crucial role in moving the country into a new economic dimension. He also said tourism in Nepal can be taken to new heights by promoting effectively attractions such as Mt Everest , Lumbini, Pashupatinath , Janakpur and Biratnagar.
"Tourism is a peace industry. So, we need to discourage bandas and strikes for the sake of tourism as well as economic development," the PM said, adding, "Economic prosperity is the key to social justice." He also said cooperation from all sectors was a must to meet the target of welcoming one million visitors in 2011.
Also speaking on the occasion, Minister for Tourism and Civil Aviation Sharat Singh Bhandari said the campaign was focused on triggering economic development in the country. "The private-public partnership approach and political commitment will pave the way for the success of the campaign," Bhandari said.
Yogendra Shakya, national coordinator of NTY 2011, said Nepal was fully prepared to welcome one million visitors. "But without the support of all other sectors, we cannot achieve the objectives of this campaign," he added. Shakya also said the campaign aims to rebrand Nepal´s tourism image, which was tarnished due to the insurgency.
NTY 2011 is the second initiative of the government and the private sector to promote tourism in the country. Visit Nepal Year 1990 organized 11 years ago succeeded in promoting tourism in the country.
At the ceremony today, representative of 19 different political parties read out the commitment paper, signed by the respective chiefs of the parties, in support of the campaign. Likewise, representatives of business, professionals, travel trade associations and other sections of society expressed their solidarity with the campaign.
A total of 40,000 people actively participated in the inauguration ceremony, according to Nepal Tourism Board. Prior to the inauguration ceremony, processions with national flags were taken out from five different points in the Valley.