NTA directs Nepal Telecom to revise ADSL prices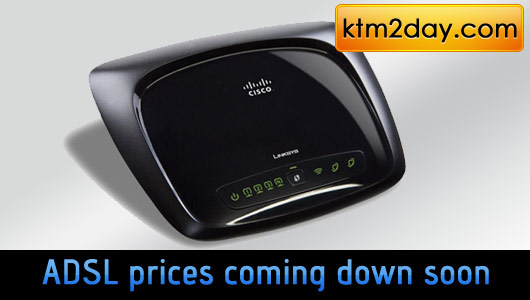 Nepal Telecommunications Authority (NTA) has stated that the price proposed by the Nepal Telecom for the volume based ADSL internet subscriber is expensive. It also directed the service operator to furnish reason on how the proposed tariff is 'rational'.
Nepal Telecom – the sole ADSL service provider had approached NTA – the regulatory body for approval of the pricing of volume based ADSL usage targeting subscribers who wish to use limited internet with faster connectivity. It had proposed offering a minimum of 2GB data bandwidth with the speed of 512 kbps at Rs. 660 per month to the subscribers.
"We have asked Nepal Telecom to prove that the price under this scheme is cheap," said Bhesh Raj Kanel, chairman of the NTA. "As soon as it comes up with evidences, we will approve it."
Currently, Nepal Telecom has been offering unlimited ADSL internet service under 128kbps and 256kbps at Rs. 900 and 1,400 per month respectively excluding VAT to the general subscribers. "There is no possibility of reducing the price," said Surendra Prasad Thike, spokesperson at Nepal Telecom. "We will submit the proof to this regard very soon and get it done."
According to Thike, the scheme was floated keeping in mind the users who want to use limited high speed broadband internet at a cheaper rate.
Launched two years back, Nepal Telecom has spread the ADSL network to over 20 districts and plans to take this service to all 75 districts within the current fiscal year.
As of mid-January 2010, the subscriber of the ADSL internet has reached to 31,163.
NT ADSL Proposed Rate Card
| | | |
| --- | --- | --- |
| Bandwidth | 2 Gb Plan | 10 Gb Plan |
| 512 kbps | Rs.660 | Rs.1970 |
| 1 Mbps | Rs.770 | Rs.2228 |
| 2 Mbps | Rs.940 | Rs.2780 |