World Cup football jerseys flying off the shelves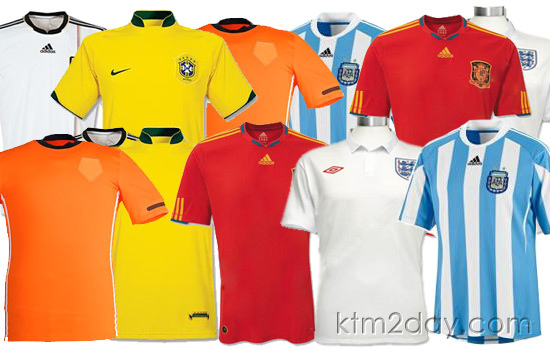 With the 19th World Cop Football going on in South Africa, the sale of jerseys of different countries has picked up in Nepal too with fans preferring to wear the jersey of their favourite teams and roam around, it was reported on Thursday.
Most Nepalis are fans of Argentina, Brazil, the Netherlands, Italy, Portugal and Spain.
Accordingly, the T-shirts in of these countries' football teams are selling like a hotcake. Sportswear stores are seeing a brisk business.
Smriti Shakya of Kasyap Sports Stores at Thapathali said that there is a high demand for jerseys and handkerchiefs painted with the flags or signs of the above-mentioned teams are in high demand among people of all age group like teenagers, youths and children.
Sunil Kumar of Sigma Sports Shop at New Baneswor also said that he has seen a rise in sale of jerseys as soon as the World Cup began. He said his store has jerseys with a price range of Rs 300 to Rs 1,000.