Ncell offering cheapest handsets at Rs.999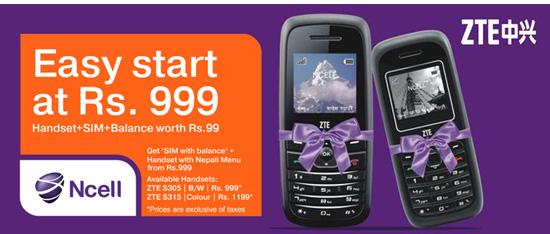 Ncell – the first private mobile operator in the country – has introduced a new starter package, offering people the cheapest mobile service ever. Under the package that will be launched on June 29, Ncell is offering a handset and SIM card at just Rs 1,130.90.
The package will cover 13 zones of the country in the first phase. The company will launch the package in Bagmati zone after assessing the performance of the new offer in 13 zones.
Ncell is offering two packages under this special promotional scheme. At just Rs 1130.90, Ncell is providing a black and white handset along with free talk time equivalent to Rs 99. In another package, Ncell will provide a color handset with Ncell connection at just Rs 1,356. Both the sets are manufactured specially for Ncell by Chinese vendor ZTE.
Announcing the new offer at a press meet on Monday, Ncell CEO Pasi Koistinen said the company has managed to significantly raise its subscriber base though aggressive promotional campaigns. "We recorded an impressive growth of 26 percent in the first three months of 2010, as compared to the figures of same period last year," Koistinen said.
The promotional model of bundling SIM card and set has proved successful for many mobile operators across the world and Ncell hopes its efforts would also pay dividend.
"We believe that people in Nepal are in need of communication services, especially in the remote areas. We have launched this offer strongly believing that people should have access to telecommunication facility irrespective of age, location and income," Koistinen said.
Koistinen hoped that their new offer would help people to acquire telecommunication service and get benefits from it.
"We feel privileged to contribute to Nepal´s economic growth through our activities." Koistinen added.
The specially designed handset has Nepali fonts which will be of great help for people who don´t know English language. Subscribers will get user manual of the set in both English and Nepali language, Ncell said. The new net set comes with a guarantee of six months.
Ncell is aggressively mobilizing its distribution channels like Ncell shops and Ncell centers to reach to more people. The company is also mobilizing its mobile vans to reach to almost everywhere in its coverage area.
"We will replace the set if there is any manufacturing defect," Sanju Koirala, corporate communication officer of Ncell, said.