Tourist arrivals up by 16% in June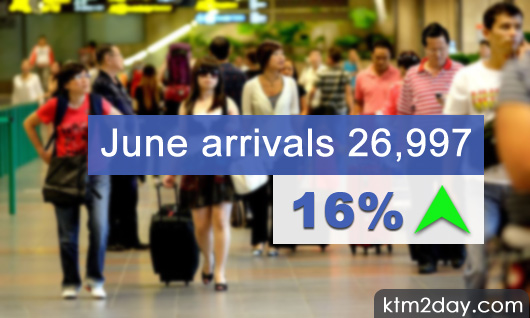 Tourist arrivals in June have increased by 16.3 percent to 26,997 compared to the same period last year, according to figures released by the Immigration Office, Tribhuvan International Airport (TIA).
The cumulative number of visitor arrivals in the first six months of this year has reached 196,319, an 18.1 percent increment compared to the same period last year.
In June, all the markets registered a growth. Arrivals from South Asia, except Sri Lanka, have grown 22.2 percent with Bangladesh posting a 51.4 percent gain, Pakistan 13 percent and India 20.9 percent.
China, another major source market for Nepal, also recorded a double-digit growth of 13.5 percent. Southeast Asia showed a mixed reaction in terms of visitor arrivals. Malaysia and Singapore witnessed dramatic growth with arrivals soaring 59.6 percent and 100.4 percent respectively.
The number of visitors from Japan went up 2 percent while South Korea and Thailand registered a negative growth of 35.3 percent and 26.5 percent respectively.
Europe posted an overall positive growth of 6.2 percent. Arrivals from Austria, France, Spain, Italy, Czech Republic, Russia and Poland were up 50.8 percent, 34.7 percent, 13.7 percent, 59.4 percent, 105.3 percent, 49.3 percent and 19.6 percent respectively.
However, visitor arrivals from the UK, the Netherlands, Germany and Switzerland declined by 2.4 percent, 15.4 percent, 9.1 percent and 1.4 percent respectively.
Arrivals from Canada and the US also registered gains of 21.1 percent and 16.7 percent respectively. However, Australia and New Zealand were down 4.2 percent and 12.9 percent respectively.