Nepal's per capita income doubles in a decade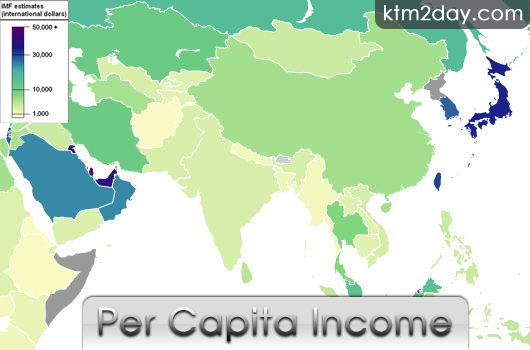 Income of Nepali citizens has doubled in last one decade, though it might take more than a decade to graduate the country to even 'very low income group'. During the 2000-01, the per capita gross national income (GNI) of a Nepali was $259 only but it has doubled to $568 in 2009-10.
"Nepal's per capita gross national income (GNI) could touch $568," according to the preliminary study of Central Bureau of Statistics (CBS). Currently, the per capita income of a Nepali is $472, the revised macro economic indicator reveals.
Per capita GNI is the dollar value of a country's final income in a year, divided by its population. It reflects the average income of a country's citizens. In the last one decade, the GNI per capita has seen a continuous increase, except for one fiscal year — 2001-02 — when it dropped to $254 from $259 in 2000-01.
Knowing a country's GNI per capita is a good first step toward understanding the country's economic strengths and needs, as well as the general standard of living enjoyed by the average citizen. As the general standard of living enjoyed by the average Nepali citizen has been deteriorating over the years, the growth in GNI per capita could be confusing to some extent.
A country's GNI per capita tends to be closely linked with other indicators that measure the social, economic, and environmental well-being of the country and its people. Normally people living in countries with higher GNI per capita tend to have longer life expectancies, higher literacy rates, better access to safe water, and lower infant mortality rates. But Nepal comes at almost the bottom of the low income group.
According to the World Bank, a country with its GNI per capita above $20,000 comes under a very high income group. Similarly, $10,000 to $1,999 GNI per capita is categorised under high income group followed by a middle income group with $5,000 to $9,999 GNI per capita. A country with GNI per capita at $2,500 to 4,999 falls under the low income group, whereas a country less than $2,500 falls under the very low income group.
Meanwhile, the CBS report also reveals that the gross domestic production (GDP) at the basic price is expected to expand by 3.53 that was at 3.95 last fiscal year according to the revised projection. The government has — in its budget speech for 2009-10 — projected 5.5 per cent growth. Similarly, the government also failed to curb the inflation that is hovering around 10 per cent, though the government has projected it to contain around seven per cent.
According to the CBS preliminary projection agriculture will grow by 1.05 per cent and non-agriculture sector will grow by 5.1 per cent. In comparison to last fiscal year, the food crops production will see 5.88 per cent lesser this year.
"The major crops, paddy and maize will register a negative growth of 11.05 per cent and 3.91 per cent," the preliminary report said. "Though agriculture contributes 33.03 per cent in the total gross domestic production (GDP), the preliminary report of CBS said. (Source:THT)