Nepal Telecom to setup world class hub station for DTH operators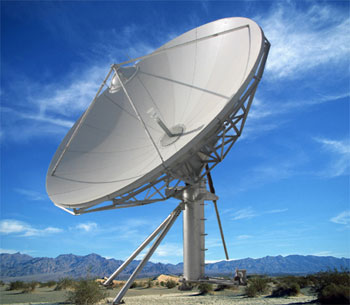 Nepal Telecom (NT) is planning to provide earth station service to direct-to-home (DTH) operators. The state-owned telecom giant is working to set up a shared DTH hub at its Sagarmatha Satellite Earth Station at Balambu, Kathmandu to make the service available within six months.
According to NT, it will invest an estimated US$ 2.75 million for the world class hub station. It will lease two carriers with 72 MHz transponders.
"The NT board has asked us to prepare the specifications for leasing satellite transponders," said Birendra Prasad Pradhan, manager of the NT's Satellite Service Directorate. "Though we have not signed any contract yet, AsiaSat and INTELSAT have shown interest in leasing us transponders having footprints over South Asia."
NT's move has come when two DTH operators, Satellite Nepal and Dish Media Network, are at the final stage of start services under the brand names Home TV and Dish Nepal respectively. NT aims to offer hub services to three-four DTH operators using DVB S2 MPEG-4 statistical multiplexing technology for maximization of throughput.
CG TechnoDreams, one of the nine firms given permission to operate DTH service in the country,has shown interest in subscribing to NT's hub station service.
"CG TechnoDreams will use our hub to transmit 60 channels in the initial phase. Later, more DTH operators can join our network," said Pradhan. He added that NT's world class hub would be able to transmit 80-120 channels.
There are an estimated two million television households in the country. Each operator needs to create a subscriber base of 150,000 to survive. They can expect heavy competition from cable operators who are adding more channels with digital quality, said television experts.
"We are going to start this service to provide DTH services in rural areas," said Bishwo Nath Goyal, NT deputy managing director." If three-four DTH operators use our service, the transponder leasing cost would go down, and customers would be able to watch quality television for a monthly fee of Rs. 150-200."
The Ministry of Information and Communications has given permission to nine firms, namely Satellite Channel, Dish Media Network, M Vision, CG Techno Dreams, Telko Investment, Marigold Entertainment, Cosmic Telecommunications Service, Biswabinayak Network and Clean Communications, to operate DTH services in the country.
Tele Direct, which had also obtained a permit to operate the service, withdrew its application citing lack of satellite transponders having a footprint in Nepal.
NT said it would most likely use INTELSAT with 72 MHz Ku-band transponders covering South Asia. The transponder leasing cost will be within US$ 3 million. If only one DTH operator uses the hub service, it will have to pay Rs. 10-20 million per month as hub station service charge. NT spokesperson Surendra Prasad Thike said that if more operators join their network, the charge would be reduced accordingly.