Honda Accord launched in Nepal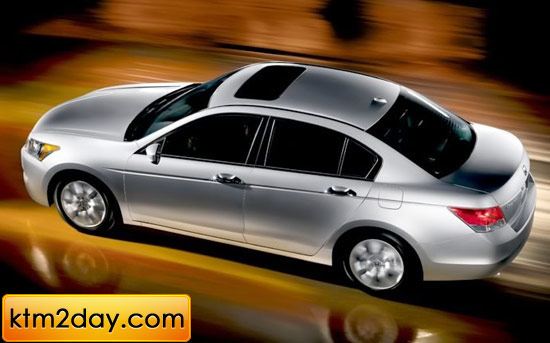 Syakar Company – the sole authorized distributor of Honda vehicles in Nepal – Tuesday launched Honda Accord, one of the most premium sedan cars from Honda, in the market.
The eighth generation Honda Accord has been redesigned to provide its customers with additional luxury features. The overall length and width of the car has increased by 80 mm and 25 mm respectively, making its dimensions the best in the class.
"Although the size of car has become bigger, there has been no compromise on driving pleasure and fuel economy," Syakar Company said in a statement.
Honda Accord was easily available in the market some years ago. But the company brought the car only upon demand because of increasing price due to duty for about two years. Now, Syakar re-launched Accord as a part of their showroom item.
The Accord uses advanced 2.4 liter i-VTEC engine that delivers class-leading power of 180 horsepower which is more than what the outgoing Accord had. Likewise, fuel efficiency has been improved by 8 percent.
The engine also delivers outstanding environmental performance and meets Euro-IV emission levels and is E-10 (10 percent ethanol and 90 percent unleaded petrol) compatible.
The all-new Accord comes with 5-speed manual transmission and 5-speed automatic transmission (AT) with paddle shift to give the exhilarating experience of F-1 racing. The AT now has Shift Holding System which avoids unnecessary gear shifting on winding roads and helps in hassle-free drive.
The handling is another key improvement in the 8th Generation Accord. The chassis and the body have been renewed by introducing Honda´s latest technology to achieve best in class handling. Together with Variable Gear Ratio (VGR) steering, the new Accord becomes quicker and more agile despite its big size.
The new Accord is equipped with the best of safety technologies, with intelligent six airbags, including side curtain air bags, Advanced Compatibility Engineering (ACE) body and G-Force Control Technology (G-CON) for enhanced safety of the passengers during a collision.
The interior design blends luxury with advanced functionality, including eight-way power seat adjustment with lumbar support, tilt and telescopic steering wheel, advanced audio system with a center multi-selector and USB port. So, the car has rear audio controls, rear AC vents and reading lights at the rear.
"We are planning to sell at least five units of Accord this year," Saurav Jyoti, the director of Jyoti Group – the parent company of Syakar.
While the entire automobile market is facing a big problem due to the bank loans, Syakar claims to be at ease even in this situation.
"The customers we have are the premium customers who hardly depend on bank loans for financing a car. So, even at this time, the sales of Honda City have gone up and other cars are being sold normally," said Ananda Gurung, the manager of Honda Cars, Syakar Company Ltd. (Source : Republica)
Honda Accord
Displacement: 2400 cc
Ground Clearance 155 mm
Colors Available: Bold Beige Metallic, Crystal Black Pearl, Tafeta White and Alabaster Silver
Price : Rs 69.5 Lakh (manual transmission)
Price : Rs 72 Lakh (automatic transmission)
Price : Rs 93 Lakh (with i-VETC engine)