Youth tourists arrival increases for adventure tourism in Nepal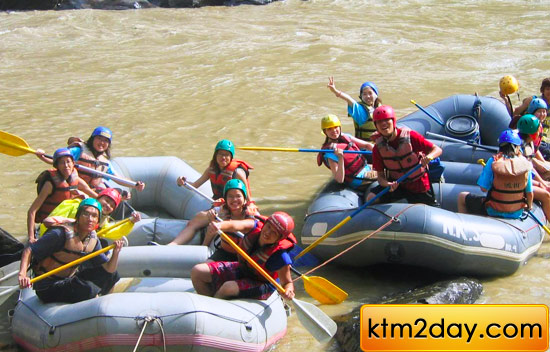 Young tourists are coming to Nepal in greater numbers thanks to a rise in adventure tourism opportunities. According to the annual report of the Ministry of Tourism and Civil Aviation (MoTCA), the number of travellers in the 16-30 age group surged by 32 percent to 140,805 in 2009 up from 106,596 in 2008.
The rise in young tourists supplements the fact that more people are coming to Nepal for adventure tourism. MoTCA's annual report shows that the number of visitors seeking adrenaline-pumping sports—high altitude trekking, mountaineering, bungee jumping, skydiving, golfing and rafting—went up by 26.81 percent.
According to travel trade entrepreneurs, Nepal has tremendous potential in adventure tourism, which has been identified as one of the fastest growing segments in global tourism.
Tourists in the 16-30 age group made up 27.6 percent of total arrivals in 2009, making them the second largest group among visitors to Nepal. There were 509,956 travellers to the country in 2009. "About 40 percent of the visitors are attracted by adventure activities, and these are young people," said Aditya Baral, spokesman and senior director of the Nepal Tourism Board (NTB).
MoTCA's statistics reveal a number of interesting facts. Tourist arrivals in the 0-15 age group almost doubled in 2009. A total of 84,891 visitors of this age group visited Nepal in 2009, up from 42,581 in 2008. "This is a significant increment; however, visitors in this age group are not independent travellers," Baral said. He added that the increment in this age group indicated that more family visitors were coming to Nepal.
MoTCA's statistics suggest that fewer travellers are visiting Nepal for leisure activities and meetings, conferences and incentives (MICE). The number of tourists in the 31-45 and 46-60 age groups—who normally come for holiday, business and official purposes—declined to 141,955 in 2009. The figures in 2008 and 2007 were 50,171 and 164,488 respectively.
Despite the drop, this age group remains the top segment accounting to 27.8 percent of total arrivals in 2009.
Arrivals in the 46-60 age group fell to 99,197 in 2009 from 121,387 in 2008. They made up 19.5 percent of total arrivals in 2009, down from 24.3 percent in the previous year.