Nepal Airlines to resume flights to Delhi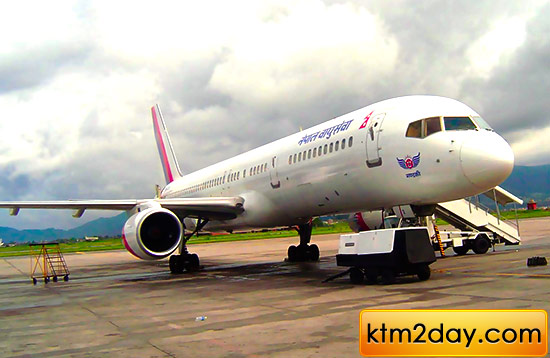 The suspended Kathmandu-Delhi-Kathmandu flights of Nepal Airlines Corporation (NAC) will resume in a week, according to the national flag carrier.
NAC flights on the sector have been suspended due to repair works of the 180-seater Boeing aircraft's faulty gear some 10 days ago.
"It took a little more time to find the spare parts as NAC planes are of old model," said a source at the national flag carrier. "After a long search, the spare parts were found in Canada," the source said adding that NAC has placed the order.
The spare parts will reach Kathmandu within five days.
"It will take another couple of days to fix spare parts and tentatively flights on New Delhi route — one of the most lucrative routes — will resume in a week."
Despite being a lucrative route New Delhi always suffers due to lack of NAC aircraft. The airline had suspended its flight in 2008 for almost seven months due to technical problem in one of the aircraft.
The national flag carrier has two age-old Boeings 747s that fly on Dubai, Kuala Lumpur, Doha, Qatar, Hong Kong and Bangkok route. Ther other aircraft flies on Kathmandu-Delhi route.
NAC has been shifting its passengers to other flight operators in New Delhi.
According to the Immigration Office, Tribhuvan International Airport (TIA) data, visitor arrivals in July, compared to the same month last year, have increased by 26.1 per cent to 29,338 fuelled by the Indian tourists arrivals.
Indian tourists arrivals increased by 26.5 per cent in July compared to the same month in 2009.
Though, there are over one dozen airlines in Nepal, only national flag carrier and Buddha Air — that has recently started its flights to Paro, Bhutan — fly on international routes.