Bhaktapur plans to be top tourist destination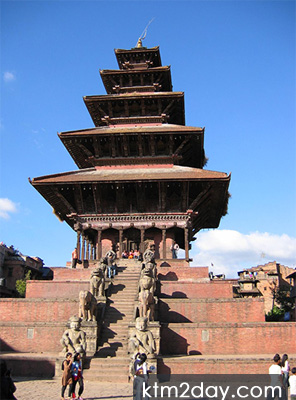 In the next five years, Bhaktapur — an ancient city in the Kathmandu Valley — is planning to establish itself as a prime destination for tourists, according to the Bhaktapur District Tourism Development and Management Plan final draft.
The draft includes major strategies for tourism development in Bhaktapur district for the next four years till 2014 and beyond. The plan has set its goal for sustainable management and development of tourism at Bhaktapur.
"Tourism will be one of the key sector for the development of the district and its populace," the draft plan envisions. The report has also identified major constraints for tourism development.
"Bhaktapur lacks accommodation facilities due to ignorance of hotel and lodge chain concepts," it said, adding, "Out of a total 60 tourist standard hotels in the district, almost 59 per cent are located in Nagarkot and 30 per cent are in Bhaktapur municipal areas. These hotels occupy almost 64 per cent of total rooms and beds available for the tourists in the district. "There is no international hotel chain in Bhaktapur limiting the potential for quality tourists," states the report. "The district also lacks entrepreneurship and has overlooked aspects of value for money."
Suppressed prospects of domestic tourism, inadequate product development, lack of additional tourism infrastructure, information and interpretation facilities are affecting tourism in Bhaktapur.
However, the draft has devised a broader objective to develop five years' sustainable Tourism Development and Management Plan with a view to conserving tourism resources and provide livelihood opportunity to local communities including deprived groups and women through wider tourism entrepreneurship.
It has also suggested developing and managing the potential tourism sites in a planned way. In order to manage and develop tourism in Bhaktapur, the draft plan has suggested activities focusing mainly on four basic principles: Integrated tourism development, partnership and participation, livelihoods and sustainability.(Source:THT)