Nepal Telecom's revenue goes up after crackdown on VoIP racketeers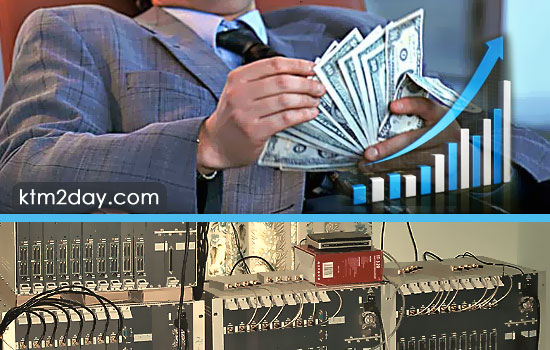 Nepal Telecom's revenue collection has gone considerably up after Nepal Police intensified crackdown on illegal Voice over Internet Protocol rackets operating from Nepal.
According to a statistics made available by NP, police have busted as many as 13 well-equipped national and international VoIP rackets from August 2009 to date.
Police had made the biggest ever crackdown on a high-tech underground call centre in Khumaltar, Lalitpur-15 on August 12 and netted three Bangladeshi racketeers. Police have also made other 23 arrests and recovered GSM (Global System for Mobile) VoIP Gateway equipment and power generators, SIM cards and pre-paid recharge cards worth over Rs 10 crores.
NP Spokesperson DIG Bigyan Raj Sharma termed these major achievements ever since police started cracking down on VoIP racketeers.
"Revenue collection of Nepal Telecom has gone up by almost three times during the period and call-by-pass in incoming call has drastically gone down," said DIG Sharma. "It has also eased the police investigation into crimes aided by Informational and Communication Technologies." He added that illegal VoIP racketeers were exhausted by police action.
Nepal Telecom had collected revenue equivalent to 2,42,86,139 minutes of incoming international calls in June 2009 against the revenue collection of equal to some 6,05,05,791 after January 2010.
Central Investigation Bureau of NP headquarters has already announced a thorough move to dismantle the nexus of illegal VoIP in the wake of rising VoIP racketeers, who are bleeding national revenue white coupled with increased criminal activities assisted by such stations. Bearing this in mind, NP has warned of stern action against Internet Service Providers and all those operating or helping operate VoIP as per the Telecommunications Act-1997.
Any organisations linked with VoIP rackets or house-owners renting their flats and rooms to such racketeers will also be brought to book.
Call by-passers make use of VoIP GSM Gateway to divert international calls from the official gateway. The call is then transferred to telecom subscribers through a GSM SIM card. The ISD then displays a personal caller ID on the receiver's gadget.(Source:THT)