Ncell launches 3.6 Mbps high speed internet in Nepal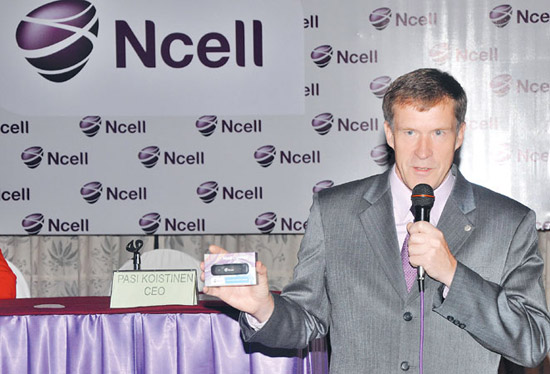 Ncell, the first private sector mobile operator on Wednesday launched a new data service—'Ncell Connect'. The service enables subscribers to avail of a high speed internet connection up to 3.6 mbps with a USB data card.
To subscribe to the service, one needs to buy a data card at Rs. 1,999 and a data SIM card at Rs. 99. The data card, once connected to the USB port of a laptop, desktop or Mac, automatically installs the required software to connect the network.
"The service is available in pre-paid and post-paid SIM too," said Pasi Koistinen, CEO of Ncell, addressing a press conference. "We introduced the wireless internet service keeping in mind the increased trend of internet use and its wide scope in Nepali market."
Ncell has introduced the service in three packages, depending on the needs of internet users. The first one is a small package with 500 MB size that costs Rs. 499 per month. The medium size 1,000 MB with the same validity period costs Rs. 899 and for the large size 5,000 MB customers will have to pay Rs. 3,999 per month.
"We will start offering the service in Kathmandu from Thursday and the service coverage will be expanded to other parts of the country too," said Koistinen. "We are bringing the fastest internet for everyone, anytime, anywhere."
Once the pack expires customers easily can buy a new pack or pay the reduced MB tariff of 2 rupees per MB. Pre-paid SIM users for the data service can recharge their account through normal recharge scratch card, while post-paid users can top up through standard procedure.
According to the Ncell, the service package size can also be reduced in future for those who use less internet. There will be maximum speed – up to 3.6 mbps in the areas having 3G network. If the subscribers are out of 3G coverage, they will get access to 2.5G or GPRS where there is no edge connection available.(Source:ekantipur)