Civil Mall opens at Sundhara

Adding to the increasing number of malls in Kathmandu, Civil Mall at Sundhara is all set to spring into operation from Oct. 3 under the corporate slogan "There is something for everyone".
"We will start full-fledged operation within a month," said Ichchha Raj Tamang, chairman of the Civil Group during the soft launch of the mall. "We are offering a complete mall solution at par with international standards where customers will get full options on refreshment and entertainment along with shopping all under the same roof."
The mall is claimed to be the largest in the country with a capacity of 175 stores on five floors. According to a press release issued by the company, there will be all sorts of stores—from clothing to home appliances to electronic appliances to mobiles. QFX Cinemas, a 1,000-seat premium multiplex cinema flagship of Quest Entertainment designed by Vastukarti India, one of the best designers in India, is a major attraction of the mall, the statement added.
According to Tamang, 75 percent of the stores have already been booked and the front half of the floor has been reserved for 100 small shops designated under kiosks. Some of the leading international clothing brands like Raymond, Peter England, Reebok, Nike and Adidas will have their stores at the mall along with the outlets of global consumer electronics giants like Nokia, LG and Sony.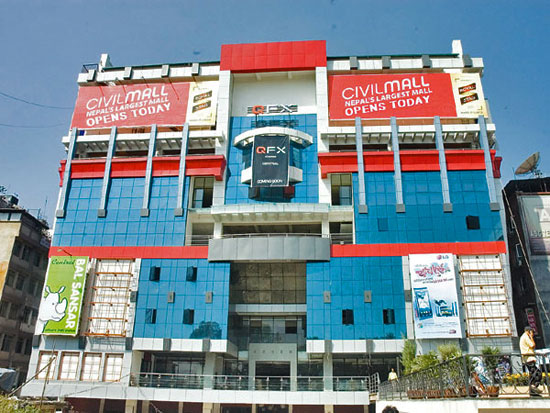 With a four-track bowling alley, the mall offers a complete recreational solution for shoppers. Another prominent feature of the mall, according to the developers, is a large indoor recreational area for children between the ages of three and 14 years. The recreational section is divided into three segments: virtual games, mental development games and physical exercises. The equipment fitted in the playground area is aimed at aiding in the overall growth of children, which is also the largest indoor kids play area in the country, according to the press statement.
The Central Food Court spread over 12,000 sq ft with 12 kitchens serving various cuisines is another attraction of the mall. The food court has a seating capacity for 500 people. To ensure convenient access to customers in the nine-storey building, the mall has 14 escalators (two on each floor), two capsule lifts, two elevators and three staircases. And customers need not worry about parking while visiting the mall since it has two levels of basement designed for vehicle parking with a capacity of 150 four-wheelers and 100 two-wheelers.(Source:ekantipur)