Nepal Telecom brings discount offers for this festive season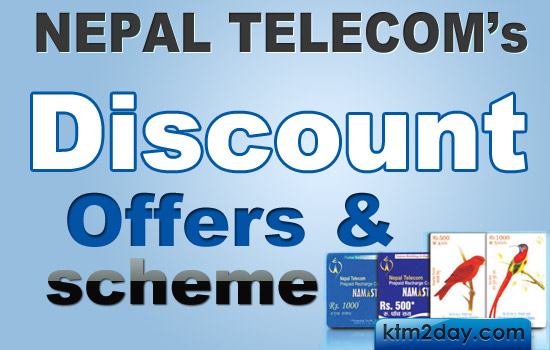 Nepal Telecom (NT) has introduced discount offers in its services on the occasion of Dashain festival. The state owned telecom giant is slashing tariff by as much as 50 percent in various services.
The discount offer which will be effective from Oct. 8 to Nov. 13, includes discount in local call charges, STD calls, SMS and GRPS service. NT is also giving away 10 percent bonus on recharge cards of Rs. 100 and Rs. 200. The bonus on recharge offer will be effective from Oct. 14 for five days, according to a press release issued by the NT.
For making local and STD calls from land lines, it will cost from Rs. 1 to Rs. 1.50 depending upon the call distance during the festive season. Normally, the call rates range from Rs. 1.50 to Rs. 3 per minute. Similarly, cost for making calls from the post-paid GSM and CDMA mobile has been cut down to Rs. 1 per minute. And, cost for calls from post-paid GSM and CDMA has been slashed to Rs. 1.50 per minute. Charge for local and international SMS service has also been slashed by 50 percent per message.
On the occasion of the festival, NT has also decided not to take charge for GRPS activation, family and friend activation, call waiting activation, monthly multiparty conference and incoming while in domestic roaming.
Meanwhile, Ncell is preparing to introduce festival offer for its subscribers within a week. It has already slashed the international long distance call rates for 22 counties and introduced the broadband internet service with focus in Dashain.
"We have been offering gifts to our new subscribers buying handsets and SIM cards in Gandaki and Narayani Regions," said Sanju Koirala, corporate communication manager of the Ncell. "There is one more special offer to be launched very soon on the occasion of Dashain."