HAN promotes Nepal Tourism Year 2011 in Malaysia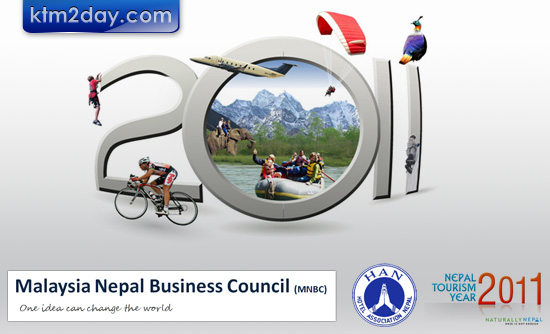 Hotel Association of Nepal (HAN) and Malaysia Nepal Business Council (MNBC) today signed a Memorandum of Understanding (MoU) to enhance cooperation in hospitality and tourism trade between Nepal and Malaysia.
"The MoU is expected to create cordial environment of joint-investment in the tourism sector, provide employment and spread skills in the two countries," said HAN. Similarly, after meeting the visiting HAN team, led by its president Prasidha Bahadur Panday, Malaysian Tourism Minister Dato Sri Ng Yen Yen assured all possible support from the Malaysian government for the success of Nepal Tourism Year (NTY) 2011.
He also focused on upcoming flights from Kuala Lumpur to Kathmandu by Malaysian Airlines and Air Asia, which will further enhance the tourism cooperation between the two countries. During the visit, the HAN team organised programmes to promote NTY 2011 that has targetted to bring one million tourists to Nepal in 2011.
The objective of the programme was to highlight the importance of Nepal Tourism Year 2011 among Malaysian Travel agents, tour operators and media.
The Nepal Night programme was inaugurated by State Minister of Tourism Shatrughan Prasad Singh, who stressed the importance of Nepal-Malaysia friendship to promote NTY 2011.
Panday highlighted the tourism scenario in Nepal. Dato Dr Victor Wee, Chairman Malaysian Tourism Promotion Board, Nepal's Ambassador to Malaysia Dr Rishi Prasad Adhikari, president of Nepal Malaysia Chamber of Commerce Chandra Prasad Dhakal, Dato Pradip Kumar Kukreja, president Malaysia Nepal Business Council (MNBC), NRN Malaysia president Shankar Poudel and Evo Nekvapil, vice-president Malaysian Association of Hotels (MAH) and Shyam SL Kakshapati, secretary general of HAN also took active part in the Nepal Night programme, where Nepali food and cultural show was the highlight of the evening.
"HAN also had a very fruitful one-to-one B2B meeting with the leading travel and tour operators of Malaysia," a press release said, adding that the B2B meeting was focused to increase the tourist flow between the two countries.