Nepal ranks 146 in corruption perceptions index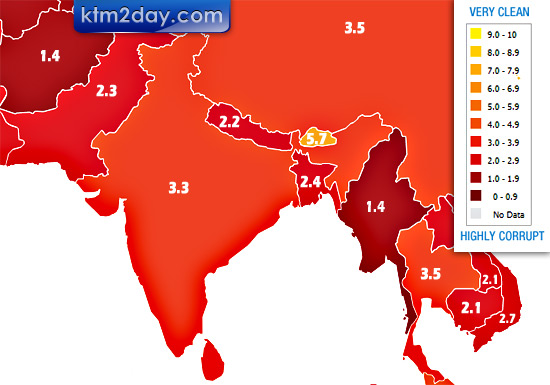 The country has in no uncertain terms gained for itself the dubious distinction of being one of the most corrupt countries in South Asia.
With a score of 2.2, Transparency International (TI) has placed Nepal 146th out of 178 countries that were surveyed and ranked in its Corruption Perceptions Index (CPI). TI made public its annual report today from its headquarters in London and other countries simultaneously.
The report states political instability, lack of political will and ineffective anti-corruption initiatives are the major factors considered in the CPI's ranking system.
Corruption in public offices, level of corruption, action against corruption and its output, government anti-corruption initiatives, administrative corruption, political corruption, bribing in import and export, and irregularities in contract awards have all contributed to making Nepal one of the most corrupt nations in the region.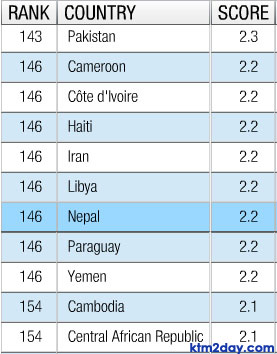 Obtaining 5.7 score, Bhutan ranked comparatively less corrupt than India 3.3, Sri Lanka 3.2, Bangladesh 2.4 and Pakistan 2.3. With a score of 1.4 Afghanistan ranks the most corrupt nation in Asia. It occupies the 176th position out of 178 countries and Somalia is the most corrupt country in the world. Though Nepal is less corrupt than 35 countries, the level of corruption has been going up steadily. It ranked 143rd in 2009, 121st in 2008, 131st in 2007, 121st rank in 2006, 117th in 2005 and 90th in 2004.
"This is the result of lack of rule of law, breakdown of the constitution, dysfunctional House and an almost defunct government," Shree Hari Aryal, general secretary of TI Nepal, said.
Bishnu Bahadur KC, Chairman of TI-Nepal, said, "Nepal needs to adopt a national integrity system." The CPI is based on separate surveys of major donor agencies—Asian Development Bank, Bulstman Foundation, World Bank, Global Insight, World Economic Forum.
The report ranked war affected counties such as Somalia with a score of 1.1 as most corrupt, followed by Myanmar obtaining 1.4 and Afghanistan 1.4 and Iraq 1.5.
According to the report, Denmark, New Zealand and Singapore are the cleanest countries with 9.3 scores.
Corrupt states at a glance
• Most corrupt nation in South Asia – Afghanistan
• Most corrupt nation in the world – Somalia
• Cleanest country in the world – Denmark
• Corruption rife in war affected countries