Broadlink Wi-Fi and Broadtel services launched in Nepal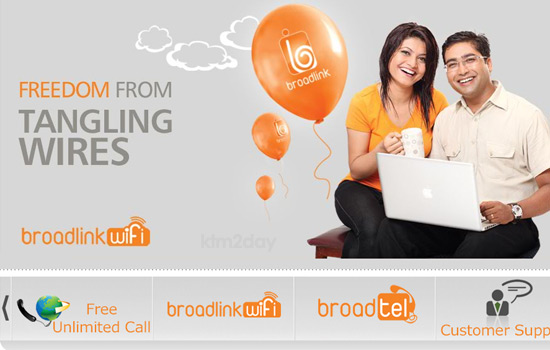 Broadlink Network and Communication has launched the next generation Wi-Fi service (Broadlink Wi-Fi) and internet-based telephony service (Broadtel) for home and corporate customers. Both data and voice services will be available from Monday.
The company will offer Broadlink Wi-Fi and Broadtel services for making international calls in Kathmandu, Butwal, Pokhara and Hetauda in the initial phase. The Wi-Fi service can be accessed through a mobile, laptop or desktop also using a Broadlink wireless USB dongle which costs Rs. 1,000.
"Customers can buy a prepaid card and fast internet at a low price with no installation charge and no use of router," said Binod Timalsina, CEO of Broadlink Network and Communication. "We give customers freedom. They can simply log on to our site and can increase or decrease the bandwidth as per their need."
Wi-Fi customers will have a choice of 128 kbps, 256 kbps or 512 kbps for internet service. Broadtel customers can buy a prepaid card of Rs. 250, Rs. 500, Rs. 1,000 or Rs. 4,000. "Customers will be able to make international calls from their mobile sets at an affordable price with crystal clear voice quality," said Rabi Shankar Ghosh, business development and strategy officer. "The service is available through IP phones and soft phones using laptops or desktops too."
The company has an investment of Rs. 200 million and plans to expand the service to 20 cities by next year. So far, it has established 125 antennas in strategic locations in the cities and plans to operate the service in Chitwan very soon.
"We have a capacity to serve 25,000 customers," said Timalsina. He added that the Wi-Fi service had passed a successful test phase with a customer base of 12,000.(Source:ekantipur)
Broadlink Prepaid Internet Plans
| | | | | | |
| --- | --- | --- | --- | --- | --- |
| Plans | 15 days | 30 days | 90 days | 180 days | 365 days |
| Unlimited 128 | 449.50 | 899.00 | 2562.15 | 5016.42 | 9953.43 |
| Unlimited 256 | 699.50 | 1399.00 | 3987.15 | 7806.42 | 15489.26 |
| Unlimited 512 | 1350.00 | 2700.00 | 7695.00 | 15066.00 | 29893.50 |
| Night 256 | 419.70 | 839.40 | 2392.29 | 4683.85 | 9293.56 |