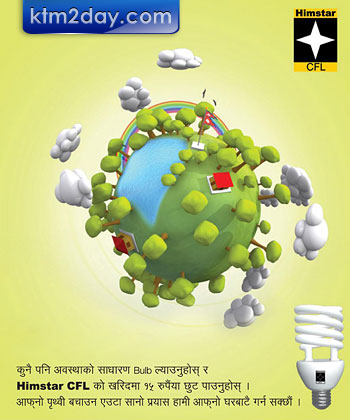 Him Electronics has brought Himstar CFL bulbs that consume less electricity and it is environment-friendly also.
With the use of Himstar CFL, a remarkable step can be taken to save earth from global warming, claimed the company.
"That is why, Himstar has come up with this offer in which a consumer can bring an ordinary bulb in any condition and get Rs 15 off on every purchase of Himstar CFL."
Marketing manager of Him Electronics Amitesh Roy said that the Himstar CFL has various useful features like 80 per cent power saving, Tri Band Coating, environment-friendly, 18 months warranty and availability of fluroscent light.
The multi-utility product saves Rs 850 in its lifetime, he said, adding that Himstar Electronics is well known for providing the best consumer products as well as consumer schemes.
"Him Electronics has brought this offer to provide special discount on purchase of Himstar CFL," he added.