JSB Financial Tower to become the tallest building in Kathmandu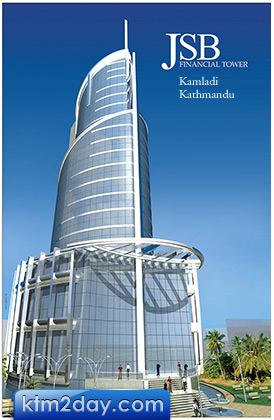 The JSB Financial Tower in Kamaladi will be the tallest building in Kathmandu when completed. Developed by Krishi Premura Properties, the 17-storey commercial complex will have a total area of 170,000 sq ft.
The building is situated at Kamaladi, one of the capital's prime commercial locations, and is divided into three blocks—retail outlets, commercial spaces and penthouses.
The first three floors of the tower will house retail outlets, nine floors will be set aside for offices of banks, financial institutions and multi-nationals. The top five floors will contain penthouse apartments.
"The retail outlets will feature high-end brands," said Pravin Naulakha, manager of the JSB Financial Tower.
The JSB Financial Tower stands apart for two reasons—location and design. It is coming up in a leading commercial location containing banks and financial institutions. With the Kamaladi-Durbar Marg area turning into a financial hub of the capital, the tower has targeted banks and financial institutions as its prospective tenants.
Designed by architect Debesh Raj Bhattarai, the tower will provide the entire range of financial services under one roof. "It will be an eye-opener for Nepal,"
said Bhattarai. "It's a contemporary design which we see abroad." Emphasis has been given to green energy in the building, he added.
All the five penthouses have been designed with spacious living and dining rooms, common bathrooms, spacious bedrooms with attached changing rooms, attached bathrooms in each bedroom and a Jacuzzi in the master bedroom.
The tower, according to architect Bhattarai, will have three-layer basement parking space which can accommodate more than 200 vehicles. The tower is equipped with high-speed wireless and optical fibre connection ideal for video conferencing and high data transmission. There will be four passenger elevators in the tower.
Formal bookings for the tower will start within a month, said Naulakha. The tower is expected to be completed within two years from the start of construction. According to Naulakha, Rasuwa Construction Co. is the main contractor of the Rs 800 million project.