Saudi Prince Talal arrives in Kathmandu for three-day visit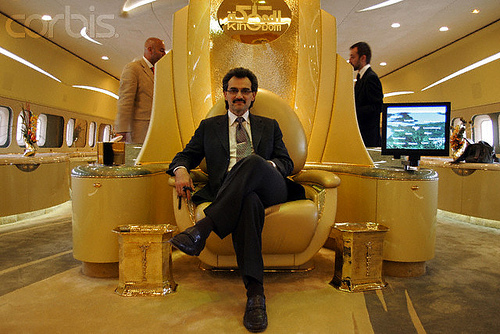 Saudi Arabia's Prince Al-Waleed bin Talal, the 19th richest person in the world, arrived here on Saturday for a three-day visit. The nephew of Saudi Arabia's King Abdullah, Al-Waleed, was received by Foreign Secretary Madan Kumar Bhattarai at the Tribhuwan International Airport. The billionaire Prince reached here along with a 34-member delegation on a private jet.
This is the first time that a Saudi royal is visiting Nepal. Nicknamed the Arabian Warren Buffet, Al-Waleed was ranked the 19th richest person in the world by Forbes Magazine in March 2010. According to the Ministry of Foreign Affairs (MoFA), his visit is a private one. Prince Al-Waeed is staying at Hotel Hyatt Regency and will fly to Bhutan on Sunday on a chartered flight of Druk Air. He is scheduled to return Nepal later on the day.
On Monday, the Prince will be meeting President Ram Baran Yadav and Prime Minister Madhav Kumar Nepal. There will be high-level talks between senior government ministers and Prince's delegation on Monday at Hotel Yak & Yeti. Foreign Minister Sujata Koirala will host a working lunch in the Prince's honour at the hotel where she will seek investment from his kitty in Nepal on areas including tourism, infrastructure and hydropower. A MoFA official said Foreign Minister Koirala, Finance Minister Surendra Pandey, Industry Minister Mahendra Yadav, Labour and Transport Minister Mohammed Aftab Alam and Energy Minister Prakash Saran Mahat will hold a special meeting with the Prince.
According to MoFA, the government doesn't have a concrete proposal to present to the Prince. "No official proposal has been prepared on how to invite him in Nepal's business sector," an official said. "The government will react after holding talks with the Prince and seeing his interest in Nepal." However, the Nepali side, according to the MoFA will talk about foreign employment, tourism and hydropower.
MoFA sources say the Saudi Prince has shown interest in tourism and hydropower sectors.
Al-Waleed is the chairman of the Kingdom Holdings Company (KHC), one of world's largest and most diverse private investment companies with holdings in the world's leading companies like Citigroup, News Corporation, Time Warner Inc., eBay Inc. Two-thirds of his fortune is held in his 95 per cent stake in the Saudi-listed investment vehicle KHC.
Al-Waleed and KHC together own 3.5 per cent stake in Citigroup. KHC also has large holdings in the Four Seasons and Fairmont hotel management chains.
Al-Waleed's palaces and real estate are worth more than $3 billion and he owns a jewellery collection that he values at $730 million, aside from four aircraft including an Airbus A380.