Lukla Airport ranked 8th among the world's top 10 stunning airports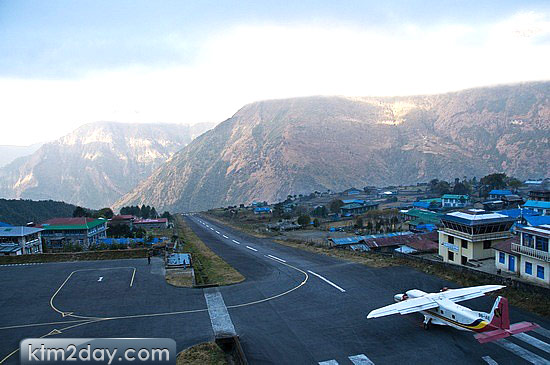 Lukla Airport, the gateway to the Everest region, has been ranked eighth among the world's top 10 stunning and inspirational airport approaches by PrivateFly.com.
The private jet-booking agency based in St. Albans, Hertfordshire has suggested its 10 recommended airports to adventure lovers as "A View to a Thrill".
The surrounding terrain, thin air, highly changeable weather and the airport's short, sloping runway make it one of the most challenging landings in the world. History Channel's Most Extreme Airports programme has ranked Lukla as the most dangerous airport in the world.
Lukla is a 35-minute flight from Kathmandu. It is the busiest domestic airport in the country, handling more than 50 flights daily during the tourist season. Only short take off and landing (STOL) airplanes can land at Lukla.
The runway is 351 m long and rises over 30 m from the bottom to the top, giving it an angle of about 10 degrees. The airport lies at an elevation of 2,800 m.
It was built in the 1960s with the support of Sir Edmund Hillary.
In January 2008, the airport was renamed Tenzing-Hillary Airport in honour of the first Everest summitters.
PrivateFly.com has named Sion Airport in Switzerland the perfect touchdown at Europe's most stunning airport. St. Maarten-Princess Juliana Airport in the Netherlands was placed third.
St. Barts in the Caribbean, Gibraltar, St. Gallen-Altenrhein in Switzerland, Madeira Funchal in Portugal and London City airport come after Lukla as the most thrilling and adventurous airports.