Buddha Air to start flights to Lucknow India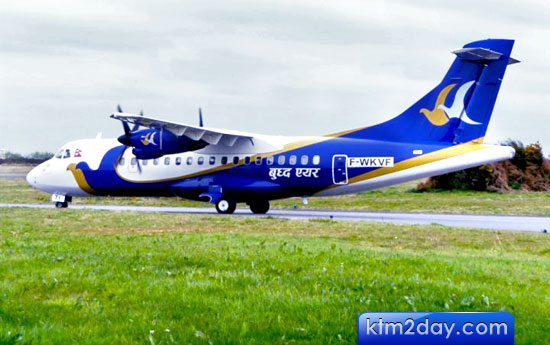 Buddha Air is starting its flight to the Indian city of Lucknow from January 7.It will be the second international flight of Buddha Air after Paro, Bhutan.
"Buddha Air will fly to Lucknow every Sunday, Wednesday and Friday," the airline said, adding that the three scheduled flights every week on the Kathmandu-Lucknow-Kathmandu route will help ease the pressure of the air travellers as Lucknow has a very good connectivity to other Indian cities. "Currently, the airline plans to fly 47-seater ATR-42 aircraft," marketing chief of the airline Rupesh Joshi said, adding that depending on passenger flow, it can start 70-seater ATR-72-500 aircraft. "One can fly to Lucknow for Rs 5,600, excluding tax," he said.
One of the biggest private airlines in the country, Buddha is also planning to introduce flights to other Indian cities like Guwahati, Kolkata, Patna, Banaras, Gorakhpur and Deharadun soon, said the airline.
After the revised Air Service Agreement (ASA) with India, both Nepali private airlines and Indian airlines can start cross-border flights to make air travel cheaper between the two neighbours.
Earlier, Necon Air, Cosmic Air and Air Nepal used to fly to Indian cities and abroad. Currently, after the national flag carrier Nepal Airlines that flies to New Delhi, Buddha Air is the only airline that is flying an international destination.
After 13 years in domestic business, Buddha Air started its first international flight from Kathmandu to Paro, Bhutan, on August 23. The airline has been operating four scheduled flights every week with its Beech 1900D aircraft that has a capacity of carrying 16 passengers.
During tourist season, Buddha Air is planning to operate one flight daily and can also add charter flights as per requirement, said the airline. Buddha Air currently has 4 Beech 1900D aircraft and can operate up to 12 flights to Paro daily. "It means Buddha Air has a capacity to carry up to 192 passengers daily," said the airline, which added a new 70-seater aircraft ATR -72-500 recently. Buddha Air has a fleet of eight aircraft at present.