Nepal Telecom to reduce service tariff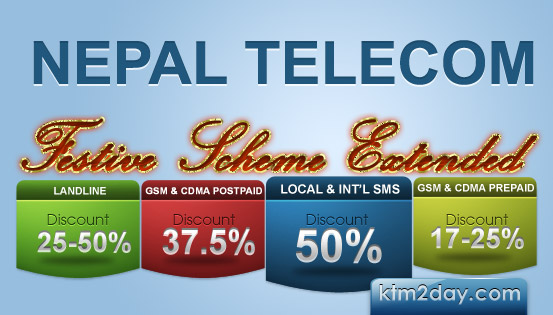 Nepal Telecom (NT) has said that it will soon reduce the service tariff, keeping in mind the increased competition in the market. It has also decided to extend the discount scheme launched during Dashain and Tihar.
NT has been offering 25-50 percent discount on its mobile and landline services under the scheme that started on Oct. 8. The normal tariff stands at Rs 2 per call for pre-paid GSM and Rs 1.80 for CDMA. The charge for post-paid GSM and CDMA is Rs 1.60 per call.
The extended offer provides 25-50 percent discount on tariff of landline service, 37.5 percent on GSM and CDMA post-paid service, 17-25 percent on pre-paid GSM and CDMA service and 50 percent on local and international SMS service.
"We have decided to continue this scheme till Jan. 5," said Surendra Prasad Thike, spokesperson for NT. He said NT was conducting a study for reducing its service tariff in a competitive way.
NT is also forming a tariff committee within a week to workout on tariff reduction, said a board member, adding that the committee is expected to make recommendations to NT's board of directors to this effect.
As a part of the plan, NT decided to start providing pre-paid SIM cards at Rs 200 from Dec. 19. The SIM card will also offer a talk-time of Rs 100. Presently, the cost for subscribing the pre-paid service is Rs 1,135 including a talk-time of Rs 500.
NT has also targeted to add 5 million GSM mobile subscribers within a few years. A total of 5.65 million people have subscribed its services – PSTN landline, CDMA and GSM mobile – as of mid-Oct. 2010.
"The market has gotten really competitive," said the board member. "We will continue to come with suitable offers."
With around 4 million subscribers, Ncell, the closest competitor of NT, has been offering calls at Rs 0.99 per minute within its network. It has already introduced a flat rate of Rs 1.99 per minute in any network across the country.