ICT Info-Trade 2011 to begin from January 5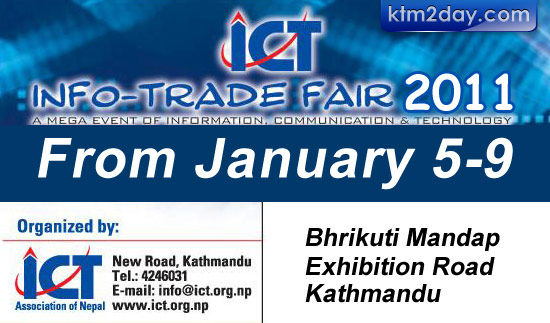 For those who love to keep themselves updated about latest ICT brands, a first-of-its-kind expo is being held in Bhrikutimandap, Kathmandu. The fourth edition of the ICT Info-Trade Fair 2011: Branding Expo will be held form Jan 5- 9, 2011.
The expo is being organised by Information Communication Technology Association of Nepal (ICT) in association with TP-Link. According to ICT, the expo will feature more than 80 brands in 130 stalls.
Internationally acclaimed brands such as AOC, Apple, Benq, Blackberry, Canon, ChiMei LED and LCD Monitors, Dell, Digicom, Dish Nepal, Exide Battery, Fujitsu, Genus, HP, Hyundai, Kaspersky, Motorola, Namaste, Ncell, Nokia, Philips, Samsung, Sony Ericsson, Su-Kam and Toshiba among others, will be present at the fair, said Roshan Bhandari, general secretary of ICT.
At the expo, the organiser will be presenting a projector at Rs 22,500. "As per our policy to present something new and exclusive, we are launching a projector at Rs 22,500 this time," said Bhesh Raj Poudel, vice president of ICT.
Likewise, a projector equipped with solar power backup system that can supply power for five hours will also be featured. According to Poudel, the projector will cost Rs 46,000. There will be schemes like printer cartridge exchange, buy a desktop and get a laptop for free and replace old DVD- and CD-ROMs with new ones, among others. During the fair, a stall featuring ZTE products will launch ZTE's surveillance system and smart pad. Likewise, SHTC International will be launching cordless phones from Siemens Gigaset, a German brand. According to DB Shrestha of SHTC International, his company will feature 10 models of phone sets and a Tablet PC equipped with Intel Atom processor and 32 GB hard disk capacity, including other features.
ChiMei, a famous Taiwanese brand, will be launching television sets especially designed for digital signals only. The television will be useful only to Dish Nepal and Home TV subscribers in Nepal.
According to Sagar Dev Lakhe, president of ICT, customers can exchange the Baleyo micro laptops purchased in the third edition of the expo with other laptops during the fair. However, customers will have to pay some amount, he said.
Lakhe added that Hasee, an international brand, is bringing an especial customer loyalty test scheme at the fair. "If a customer buys a Hasee laptop and expresses his/her satisfaction on the product to five people, then s/he will be refunded the money paid for the laptop," said Lakhe. "Laptops from Hasee are priced between Rs 34,000 and Rs 69,000."
ICT has aimed at bringing in more than 350,000 visitors and over 250 dealers from outside the Valley during the fair. Tickets for the fair are priced at Rs 100 for general visitors and Rs 50 for students.