International elephant festival begins at Sauraha in Chitwan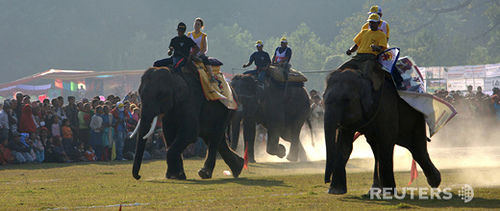 The international elephant festival begins at Sauraha in Chitwan district from Sunday, but there is something new this time that will thrill tourists and locals alike.
Besides the usual elephant race and football, there will be an inclusive beauty pageant of female elephants on the occasion. Six of these big ladies
will vie for the pachydermal tiara. On Saturday, their mahouts bathed them in the Rapti River and decked them up for the contest.
Elephant Management Sub-Committee Coordinator Rishi Tiwari said that Bha-wanikali, Basantikali, Cham-pakali, Chanchalkali belonging to local entrepreneurs and Dhrindrakali and Rupkali of Chitwan National Park are in the elephantine beauty contest.
Tiwari said that on the first day, two contestants will be eliminated in the first round of the contest. A third will be eliminated on the second day during the second round while the remaining three will compete for the winner's spot.
The selection process is based on the attire and frills that the elephants will sport aside from their level of discipline among other attributes, he added.
"The purpose of the contest is to draw the attention of tourists," said festival coordinator Narayan Bhattarai.
"Tourists have immensely enjoyed the elephant races and elephant calves' football matches held previously," he said adding, "We hope that they also like the beauty pageant which is a novel feature."
With the festival at hand, the in flow of tourists is at a high in the area with hotels crowded beyond capacity. The inauguration ceremony of of the festival will be held on the Bagmara Community Forest ground.(Source:ekantipur)