Bryan Adams Concert in Nepal on Feb 19, 2011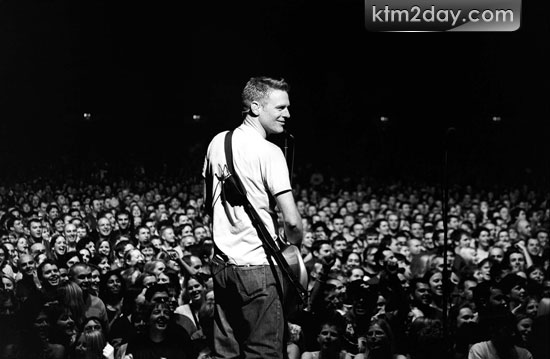 KATHMANDU: It looks like the coming year will begin on a high note for music fans — the one and only Bryan Adams is to perform in Nepal in 2011.
At a press conference held on December 8 at Soaltee Crowne Plaza, it was revealed that Adams will perform here on February 19, 2011.
The Bryan Adams live-in-concert is being organised by JPR events and supported by ODC Network. Sunil Hamal, CEO of JPR Events, Suresh Jung Raimajhi and Simant Gurung, CEO and Director of ODC Network were present at the press meet to answer media queries.
They informed that Adams' agent Roi Lamb had already been here to check out the venue for the event, the hotel where the singer is to stay and the security.
Adams, a Canadian artiste, is known for his husky, soulful voice and has given hits like Everything I do, I do it for you, 18 Till I Die, Have Your Ever Really Loved a Woman, among others.
One of the coordinators of the event Samden Sherpa said "Nepal celebrates the year 2011 as Tourism Year and Adams' visit will highlight this in the global community. Adams is an evergreen icon and the winner of many awards, and his popularity cannot just be ignored."
He also went on to add, "And also February being the month of love, let us start and celebrate the year on a positive note."
Hamal claimed, "We had to convince Adams to perform in Nepal since he is already on a world tour. He will be performing in India and Bangladesh as part of the Bryan Adams Live Full Band Show World Tour, and we have managed to procure two days of his time for a tour of Nepal as well. The real idea is to support our Nepal Tourism Year 2011."
Venue : Dasrath Stadium
Ticket Price :
Platinum : NRs. 6000
Gold : NRs. 3000
Silver : NRs. 2000
Time : 7 – 9 pm
Gates Open @ 2 pm
Tickets Available from January 15,2011 onwards at:
Manakamana Development Bank

A short clip filmed by Bryan Adams on stage during the song "Cloud Number Nine" 19.2.2011
___________________________________________________________________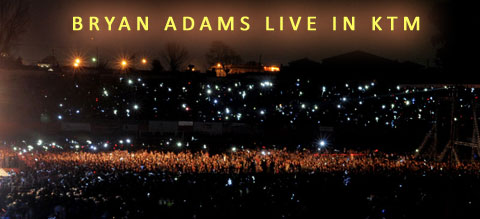 Bryan Adams Kathmandu Concert – Image Gallery >>>
___________________________________________________________________