Himalayan Paramotor Yatra to begin from January 12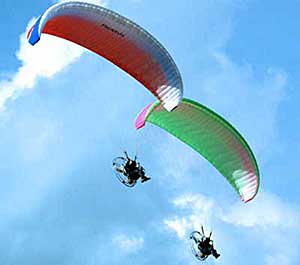 In order to attract more international visitors in the Expo and promote Nepal Tourism Year-2011, Avia Club Nepal and Nepal Air Sports Association will organise 'Himalayan Paramotor Yatra'.
The event will begin in Kathmandu on January 12. Pilots from 12 countries including Russia, India, Malaysia, Singapur, Brazil, Israel, UK and US have registered their names to take part in the paramotor journey, according to an official of Avia Club.
The pramotor journey is going to be held for the first time in Nepal.
"During paramotor journey, we will arrange to show airshow and aerobatics performances in Kathmandu, Chitwan, Bhairahawa and Butuwal," Barun Gyanwali of Avia Club said.
According to him, 28 paramotor pilots from across the world will take part in the event.
A four-member special paramotor acrobatic pilot team from Russia will arrange for the paramotor championship.