Nokia and Microsoft join forces in smartphone war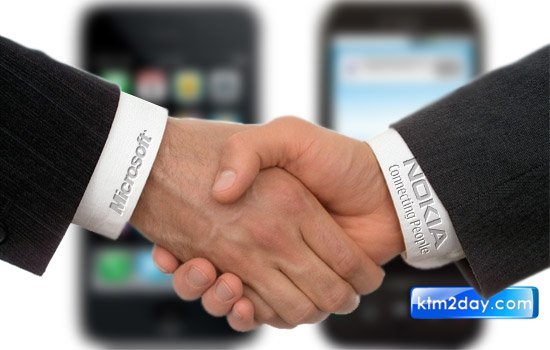 Nokia and Microsoft teamed up on Friday to build an iPhone killer in a desperate attempt to take on Google and Apple in the fast-growing smartphone market.
Nokia said using Microsoft's Windows Phone software in its smartphones would speed up new product launches, but shares in the world's largest cellphone maker fell sharply on uncertainty about the financial impact of new chief executive Stephen Elop's strategic u-turn.
"It is now a three-horse race," said Elop, who was drafted in to head Nokia from Microsoft last September.
Elop said the partnership would mean job cuts around the world, while research and development spending would also be slashed.
The deal with Nokia marks a major breakthrough for Microsoft which has struggled for years to establish itself in wireless.
But investors were unconvinced by Elop's new strategy and Nokia shares tumbled 10 percent after Nokia said 2011 and 2012 would be "transition years," fuelling fears of a negative impact on margins.
Nokia said its operating margin would be "10 percent or more" after the transition period, compared with a margin of 7.5 percent for 2010.
"Given that the people who were positive on the stock were looking for mid-teens devices margins by 2012, we can see some cuts to estimates," Richard Windsor, global technology strategist at Nomura said.
Nokia has rapidly lost share in higher-margin smartphones as Apple's iPhone, and products based on Google's Android platform, have revolutionized the market.
Although Microsoft's Windows Phone platform, which had a 2 percent market share in the last quarter, is widely recognized by industry experts as a leading edge technology, it has not yet caught the imagination of consumers.
The decision to throw its lot in with Nokia could put others off using its software, but analysts said that on balance it was Microsoft that would gain most from the deal.
"I do not see LG, Samsung, HTC carrying on with Windows Phone. They are betting everything on (Google's) Android. Nokia's obviously going to have a much deeper integration than the others," said Carolina Milanesi, handsets analyst at IT research firm Gartner.
FEAR FACTOR
Nokia, which has struggled to create a rival to Apple's iPhone phenomenon, is now watching smaller competitors like HTC Corp and Motorola hook up their smartphones to Google's Android software and lure customers around the globe.
"This is a partnership born out of both parties' fear of marginalization at the hands of Apple and Google but there is no silver bullet," said analyst Geoff Blaber from CCS Insight.
Nokia's share of the smartphone market fell to 31 percent in the fourth quarter of 2010 from 38 percent the previous quarter.
In a bid to stem Nokia's losses, chairman Jorma Ollila poached Elop from Microsoft. The 47-year-old Canadian is the first non-Finn to head Nokia, which has been criticized for a closed culture and inability to develop new products quickly.
Nokia said in a statement it would stick with its current management team, with only one senior executive to leave. There had been speculation of a wider cull at the company. Elop said he would announce a new North American management team later.
Nokia also said it would use Microsoft's Bing search engine across its cellphones, potentially opening up a huge market for Microsoft as it seeks to build up its challenge to Google as the world's leading search engine.
Analysts said the Finnish company, which invested billions of dollars in building up mobile internet services under its previous CEO, had effectively admitted defeat in its services strategy by joining forces with Microsoft.
"This is a very frank admission that Nokia's platform strategy has failed and underlines the seriousness of Nokia's position. Such a move would have been unthinkable just 12 months ago," Blaber said.