Nepal to host international canyoning event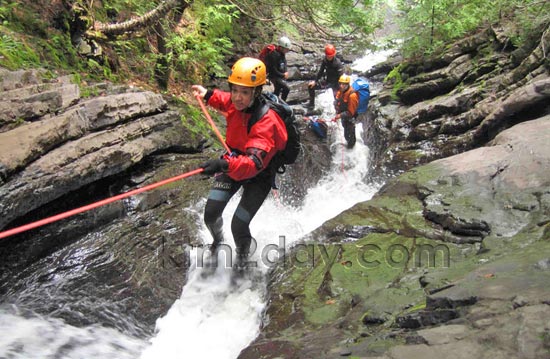 Nepal will organise International Canyon Rendezvous-2011 for the first time in Asia and the Himalayas from 7 – 13 April 2011.
"With consistent and hard effort of Nepal Canyoning Association (NCA) in support of other international partner organisations Himalayan Canyon Team (HCT) and Federation Francaise de Speleologie (FFS), France, ICR — 2011 is scheduled to take place in Nepal," said Tilak Lama, chairman of NCA.
This is a matter of pride for NCA. More so because the ICR – 2011 will for the first time take place in Asia, Lama said, adding that coinciding with NTY 2011, it will contribute to promote mountain adventure tourism in Nepal and diversify adventure sport activity as a new product.
In the history of Canyoning, most annual ICRs took place in European countries like France, Greece, Portugal between the first RIC in 2003 in Spain and the most recent one in Italy.
For 2012, it is scheduled to take place in Brazil. "We are trying to promote the event mostly through Internet and other canyoning associations in Europe and America," he said, further adding that NCA has also requested to enlist the ICR Nepal — 2011 in the Nepal Tourism Year (NTY) 2011 event 2011 and also help promote the event through all promotional modes.
Canyoning has drawn a keen interest for participation from more than hundred professional canyoneers from around the world, he informed.
Hundreds of canyoning professionals are expected to participate in the ICR Nepal – 2011.
The ICR, also known as Rendezvous International Canyon (RIC) in Europe, is an international event that is organised every year and professional canyoneers from all over the world participate in the event.
ICR is a world forum to practise, exchange and learn canyoning skills. The rendezvous is to provide opportunities for canyoneers from different parts of the world to get together and achieve practise skills learnt in training classes, share experiences and ideas among the participants, and make canyoning a popular sport, according to NCA.
ICR Day Plan:
ICR Dates: 07 – 13 April 2011
Total no. of participating on ICR: 270 Canyoneers
Time Canyon-in: 08:30 am to Canyon-out 4.00 pm hrs
Team size: Max. 6 Canyoneers
Canyon-interval: Every 30 minute and 1 one hour