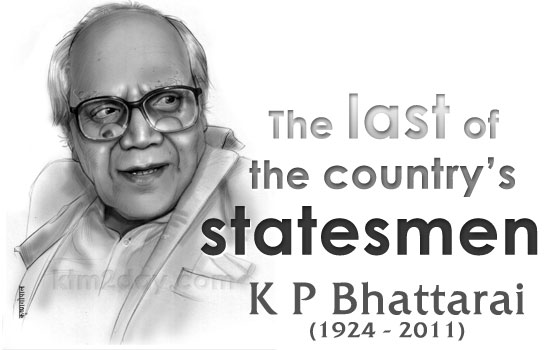 The country mourned the passing of veteran leader and two-time former Prime Minister Krishna Prasad Bhattarai on Saturday. His final rites will be conducted with state honour on Sunday and the day declared a public holiday.
Hundreds of well-wishers from all walks of life including political leaders, the prime minister, ministers, civil servants, and artistes visited his ashram at Badegaun, Lalitpur. Those who knew him personally said the country had lost a true democratic leader possessing impeccable integrity, a commodity rare in Nepali politics. Bhattarai breathed his last at 11.26 pm on Friday at Norvic International Hospital.
Vice President Paramananda Jha, Prime Minister Jhala Nath Khanal, Constituent Assembly (CA) Chairman Subas Chandra Nembang, Deputy Prime Minister and Communications Minister Krishna Bahadur Mahara paid their last respects.
PM Khanal said Bhattarai's leadership while heading the government and writing the constitution after the 1990 restoration of democracy was a lesson for parties today. "His sacrifice in establishing democracy is incomparable," said Khanal. "The nation should learn a lesson from the great leader."
NC President Sushil Koirala said, "Now, since we don't have leaders like Bhattarai, Girijababu, Ganesh Man Singh and BP, we should become them and materialise their dream."
Sher Bahadur Deuba, who cut short his Singapore visit, said with Bhattarai's demise the party and the country had been orphaned. "Institutionalising peace and writing the constitution on time would be the proper mark of respect to him," he said.
Deuba, Bhattarai's favoured man in NC, said Bhattarai was not happy with developments following the 1990 restoration of democracy, including the seven-party decision to oust the monarchy and that he was worried about "gradual weakening of nationalism." Asked why his guru opposed federalism and advocated monarchy in the post 2006 period, Deuba said, "That was his individual opinion. He may have had his own reasons."
Those leaders who knew Bhattarai closely said his strength was his conviction in his principles and capacity to stay firm on these even if that made him 'unpopular'. "The country hardly has a clean and transparent leader like him," said PL Singh, his close friend. "While he lived, no corrupt leader dared approach him."
Leaders who engaged with Bhattarai in his political career said it was a 'shame' that the party could not respect a leader like him and he dissociated himself entirely from the party. "It was negative politics that edged him out. He resigned for the sake of the party and democracy," said Singh.
Last rites schedule
KATHMANDU: Nepali Congress has said that the body of its founding leader Krishna Prasad Bhattarai will be taken to the party headquarters at Sanepa at 8 am on Sunday in a procession and then to the Dasrath Stadium where the body will be kept for the public to offer their last tributes till 2:00 pm. The final rites procession with Bhattarai's body would then move towards Pashupati area's Aryaghat through New Road, Bir Hospital, Ratnapark, Bagbazaar, Dillibazar, Old Baneshwor, Battisputali and Gausala. Bhattarai's last rites will be performed with state honours.
Diplomats condole
KATHMANDU: The Embassy of Japan in Nepal conveyed its condolences to Bhattarai's bereaved kin. "He made a historic contribution to democratic movements of Nepal," read an embassy statement. "On this occasion, the Embassy of Japan wishes all political parties to unite and accelerate the writing of the new constitution for its peace process."
British Ambassador John Tucknott said in a statement, "On behalf of the UK Government I send sincere condolences on the passing of Krishna Prasad Bhattarai. As an activist and Prime Minister, he long served the cause of democracy in Nepal."(Source:ekantipur)