More Nepali tourists visiting Annapurna region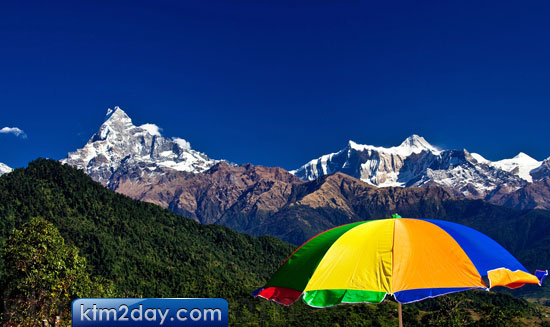 The Annapurna Area, which used to be one of the main attractions for foreign tourists in Nepal, has now also started attracting internal tourists with increased numbers of Nepalis visiting different tourist destinations on the Annapurna trekking route.
Ghandruk, Annapurna Base Camp, Ghodepani and Birethanti, among others, have witnessed a good number of Nepali trekkers. Local tourism entrepreneurs said that the increase promotional activities for internal tourism, good facilities of lodging and fooding, attractive discount packages and the beauty of the Annapurna range had attracted Nepali sightseers. They said that many Nepali students come for vacation and even Nepali couples come on honeymoon trips.
"The number of Nepali tourists visiting the Annapurna area has increased significantly," said Kisam Gurung, president of the Ghandruk Tourism Management Sub-Committee. "The also spend like foreigners." With the positive response from Nepalis on internal tourism, many tourism entrepreneurs have also introduced packages targeted at internal tourism and they provide good hospitality too. "Nepali visitors have increased as the area is also considered safe," said Gurung who is also proprietor of Gurung Cottage.
Different tourist destinations along the trekking route have also become famous for honeymooning. "I came to Ghandruk for experiencing the local culture and rural life," said Binod K.C. of Pokhara Lakeside. He had reached Ghandruk with his newly wed wife. Many people from major cities like Kathmandu, Pokhara and Chitwan have started to visit Ghandruk.
Krishna Gauchan, owner of Hotel Sunrise at Birethanti, also said that the number of internal tourists visiting the area had increased significantly. "Now, there is no need to wait for foreigners only because the arrival trend of Nepalis too is good," he added. He has also prepared a menu for Nepali tourists.
The Annapurna Area Conservation Project (ACAP) charges Rs 200 per foreigner visiting the area as royalty. However, entry for Nepalis is free and there is no need to get any route permit. Tika Ram Sapkota, president of the Pokhara Tourism Council, said that the trend of going for trekking and visiting new places among the urban youths had increased. "Rural lifestyle, beautiful Himalayan peaks and biodiversity are the main features to attract Nepalis to the area, and some people visit with the whole family," he added.
Of the total number of foreign tourists visiting Pokhara, 60-70 percent go trekking in the Annapurna Area. It is reported that annually an estimated 70,000 foreigners go trekking in the Annapurna Area. However, there is no data of how many Nepalis go trekking here.(Source:ekantipur)