Renowned Hafeez Contractor comes to Nepal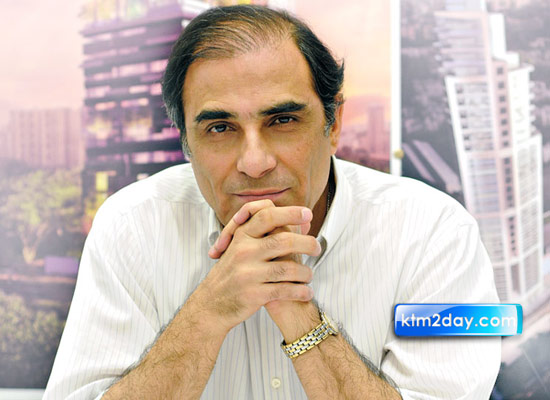 World renowned architect Hafeez Contractor is building his first housing project in Nepal.
Working in tune with Westar Properties — a member of Golyan Group — Hafeez Contractor will design and build Westar Skyliving — a luxury high rise housing project in Kathmandu.
"What we promise is what we are looking to deliver to people in Kathmandu," he said, adding that the project will have a different approach and is expected to be a huge success.
The project which will have two towers will be spread over 7.10 ropanis of land and will have fourteen floors with seventy-seven per cent of open space.
The apartments will be between 3,000-sq-feet to 4,400-sq-feet. "We have a team of specialised people working on the project and will use quality raw materials to ensure hassle free living for the residents," Contractor said, adding that the project boasts of using Italian marble, copper pipes and all state of the art material required for construction.
Recently many high rise buildings have cropped the Kathmandu skyline. Kathmandu being an earthquake prone zone puts many old structures at a risk in case of a major calamity, keeping this in mind Contractors building will be built in accordance with a structure necessary to sustain in case of a major earthquake.
"We are building keeping in mind that Nepal falls under Seismic Zone 5 ensuring that the building withholds in case of a calamity," he said.
"As far as old structures, there is not much that people can do as old structures were built without many technicalities in mind," Contractor said, adding that the government can provide alternate sustainable housing options in order to protect lives in such a case.
Vertical Living is taking over every other trend as it consumes less space allowing more land for greenery and water sustenance. "Highrise buildings are less land consuming and at the rate construction is taking over, if people opt for palatial bungalows and houses there will be no land left, high rise buildings give more space for planting trees and water bodies,"said Contractor.
Today launched Westar Skyliving located at Soalteemode opposite to Grand Hotel boasts of spacious and lavish interiors made with high standard materials, well equipped with a gym, swimming pool, banquet hall, Jacuzzi, spa, an inbuilt oxygen room, a movie theatre and indoor game rooms.
Priced above Rs 30 million, the luxury apartments will also be equipped with the latest in security systems with secure lifts and secure entries, according to the company. "It is targeted to high end clientele."
Hafeez Contractor is an acclaimed architect from Mumbai and has conceptualised designed and executed a wide range of architectural projects like bungalows, residential developments, hospitals, hotels, corporate offices, banking and financial institutions, commercial complexes, shopping malls, educational institutions, recreational and sports facilities, townships, airports, railway stations, urban planning and civic redevelopment projects.(Source:THT)