Tata Nano officially launched in Nepal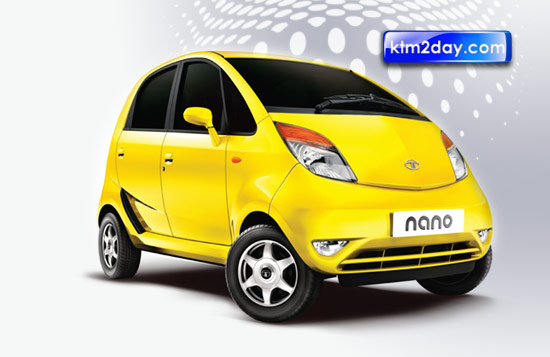 After almost one month of extensive Nepal tour, the much awaited Tata Nano car was officially launched in Nepal on Sunday.
A glossy yellow Nano was jointly unveiled by Siddhartha SJB Rana, executive chairman of Sipradi Trading Pvt Ltd (STPL), and Johnny Oommen, head of International Business (passenger vehicles) at Tata Motors.
Rana said bookings have been opened for 10 days, starting Sunday, in the first phase. "We will start delivering the car from the end of July," said Rana.
STPL has launched all three variants—Nano LX, Nano CX and Nano basic. The price of the Nano in Nepal starts at Rs 7,98,000 for the basic model, while the Nano CX is priced at Rs 998,000. The full-option Nano LX is available for Rs 1.178 million. STPL is positioning Nano as the perfect vehicle for Nepali road conditions, rather than the cheapest.
Although the prices are higher here compared to India due to high auto taxes, the company believes it will attract consumers who want to graduate to four wheelers from two wheelers. "The car will certainly attract the people looking for an entry-level hatchback," said Oommen.
Oommen said Tata Motors is delighted to introduce the Nano in Nepal. "We are confident that with its comfort, performance and maneuverability, the Tata Nano is the ideal small car for discerning customers of Nepal and will win their hearts," said Oommen.
According to STPL, bookings for all three variants can be made through its 14 showrooms throughout the country. As an introductory offer, the basic model of Nano can be booked for Rs 10,000, the Nano CX for Rs 20,000 and the Nano LX for Rs 30,000.
In a bid to make the Nano affordable, STPL has tied-up with 10 banks for auto financing that comes with two options—five-year and seven-year loan. One can purchase the basic model at a monthly payment of Rs 11,111 on a seven-year auto loan scheme. However, one should make a 30 percent down payment.
Equipped with a 624cc rear-engine, the Nano boasts of captivating features such as 180mm ground clearance, 4m turning radius and 21 percent more interior space compared to its competitor Maruti 800, making it an ideal machine for the Nepali road conditions.
Even before its arrival, Nano has created a buzz among car users. And, this has been reflected in bookings. According to STPL sources, 20 Nanos were booked on Sunday itself.(Source:ekantipur)