New international airport to build next year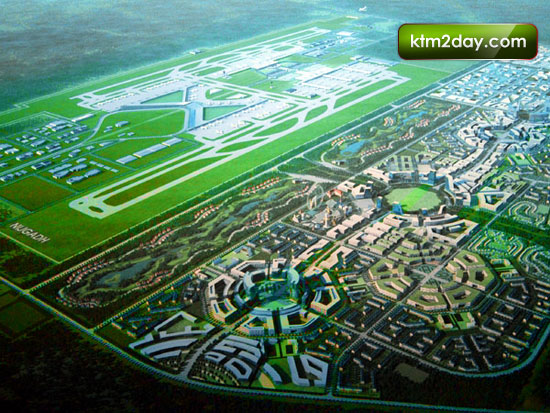 Minister for Tourism and Civil Aviation Khadga Bahadur Bishwakarma on Monday said that construction of the second international airport at Nijgadh will start from the next fiscal year.
The government has given top priority to the construction of the airport in the next fiscal year's budget, Minister Bishwakarma said.
"The government is thinking of using employ foreign investments for the construction of the airport if it is necessary," he added.
Speaking at an interaction with journalists in the capital, he said that his ministry's first project in the next fiscal year would be to equip the Nepal Airlines Corporation (NAC) with new aircrafts.
"We must make NAC capable before purchasing the aircraft for the carrier. The recent change made in the management of NAC was a step for this purpose," he said.
He said that an intensive revamp would be made in NAC for making it self-sustained.
"For bringing in aircrafts at the earliest possible, a fresh process will be started soon and the government will take the shortest way possible," he said.
Talking about the Tribhuvan International Airport (TIA), he said possible expansion and improvement works would be carried out for managing increased traffic movements. "We could go for 24-hour operation of the airport," he said.
He said that Nepal could not be developed into an attractive tourist destination of the world despite its immense potentialities, in past, due to lack of envisioned goal and effective planning. "So, the present government has made planning for a balance development of tourism throughout the country," he said.
The government has proposed 17 separate tourism centers in the country for a balanced development of tourism, he said.
The government has made a clear vision to develop Nepal as one of the attractive tourist destinations of world in the next 15 years, he said.
For the development of tourism sector in the country, he stressed the need for good cooperation and understanding between the government and the private sector, he said.
"We are positive towards involving the private sector in the development of tourism infrastructures, including airports," he said.
Delving into the Nepal Tourism Year 2011 (NRT 2011) being celebrated in the country, he said that there was still chance of meeting the target of one million tourists.
In another context, he said that the government was committed to the Fifth Freedom internationally practised in the aviation sector.
"The government will finalize the case of Air Arabia's flights to Malaysia," he said.(Source:The Rising Nepal)