TIA to install self-service check-in machines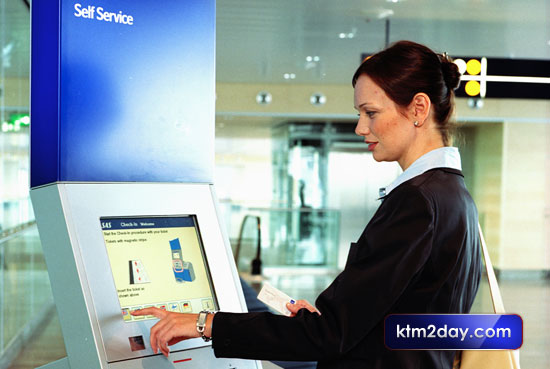 Nepal's only international air passenger gateway Tribhuvan International Airport (TIA) is in the final stages of installing common user terminal equipment (CUTE) that will enable integrated passenger check-in and e-ticketing for all online airlines.
According to the Civil Aviation Authority of Nepal (CAAN), construction of counters has begun following approval of the system's design. TIA plans to install 24 counters in the first phase. Their number can be expanded to 36 if required. The service is expected to begin from this month.
The upgradation is being done with the financial support of the Netherlands-based Sita Information Networking Computing B.V. Company in a bid to modernise TIA using IT. After CUTE goes into operation, passengers can use the computerized system and check in at any counter eliminating queues commonly seen during manual check-in. "Sita is making the entire investment as per the agreement signed with CAAN," said Hans Raj Pandey, coordinator of the project. The payback period of the project is seven years. The company will invest about Rs 120 million.
"Passengers will not have to stand in line with the CUTE system, and there will be faster transfer of information of the passenger's airline and faster checking of baggage," Pandey added.
The departure control system (DCS) currently in use is being operated and managed by the international airlines themselves. There are 27 international carriers serving TIA.
With the number of airlines connecting Nepal increasing and passenger movement swelling, lack of space to accommodate individual check-in counters at the departure lounge has led TIA to go for CUTE. TIA will act as CUTE manager. Officials said that all the counters would have common network sharing.
CUTE is compulsory in international practice providing single software facility to airlines, a network of shared information technology equipment for passenger check-in and boarding, baggage check-in, departure control and airline ticketing.
After the system is in place, each departing passenger will be charged US$ 1. Pandey said that CAAN would get one-third of the revenue which will be used to improve IT at TIA.
Moreover, the operating cost for airlines will also be reduced by using the system. Airports require confirmed approval of 80 percent of the airlines to implement CUTE.(Source:ekantipur)