Tourist arrivals to Nepal via air up by 11% in September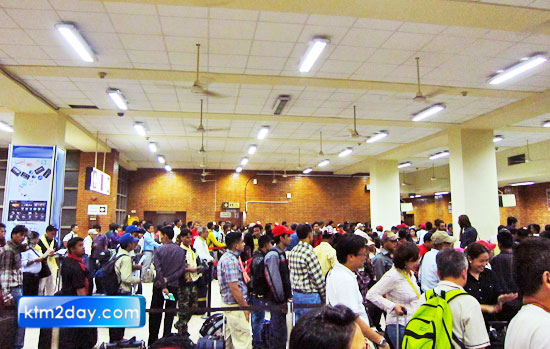 Tourist arrivals via air increased by 11 percent in September compared to the same month last year.
A total of 45,782 tourists visited the country in the month, according to the statistics of Immigration Office at the Tribhuvan International Airport (TIA). The total number of arrivals via air until September this year stood at 369,844 in 2011.
Arrivals from SAARC countries increased 8.6 percent to 13,213 in the month. Last September, the figure was at 12,169. Arrivals from India, the main source market, grew 24.5 percent to 10, 316. In the first nine months of 2011, the total Indian arrivals reached 112,235, up 44 percent compared to the same period last year.
Among other SAARC countries, arrivals from Pakistan and Sri Lanka also posted a double digit growth in September-23.6 percent and 75.4 percent, respectively. On the other hand, arrivals from Bangladesh declined by 34.2 percent, according to TIA.
The country witnessed an aggregate increment of 28.9 percent in the number of tourists arriving from other non-Saarc countries including China, Japan, South Korea, Singapore and Thailand.
Chinese visitors registered a robust growth of 66.6 percent, while those from Japan, Singapore and Thailand posted 21.5 percent, 30.3 percent and 10.1 percent growth, respectively. However, arrivals of Malaysian tourists decreased by 32.8 percent and that from South Korea witnessed 29.4 percent decline.
In recent years, the inflow of Chinese tourists has gone up remarkably. As of September this year, Chinese tourists witnessed the highest growth of 61.1 percent to reach 29,503. Nepal has mainly focused on Indian and Chinese market to make the Nepal Tourism Year 2011 a success. The country has targeted to bring in 1 million tourists during the event.
The number visitors coming from European countries grew 7.8 percent in September to reach 13,831. Last September, the figure stood at 12,835.
While arrivals from the UK, Italy and the Netherlands posted a growth of 0.5 percent, 51.4 percent and 13.4 percent, respectively, visitors from Germany, France and Spain declined by 3.1 percent, 9.8 percent, and 6 percent, respectively.
Visitors coming from Australia, Canada and USA also increased by 2.8 percent, 11.7 percent and 4.8 percent, respectively, but those from New Zealand declined by 22.2 percent in September compared to the same month last year.
According to TIA, a total of 46,396 tourists departed in September this year. Nepali arrivals stood at 73,210, while 61,430 Nepalis departed.
Arrivals Jan-Sept Up
| Country | 2010 | 2011 | Change % |
| --- | --- | --- | --- |
| India | 77,947 | 112,235 | 44% |
| China | 18,313 | 29,503 | 61.10% |
| UK | 20,173 | 21,473 | 6.40% |
| Japan | 12,734 | 13,735 | 7.90% |
| France | 12,517 | 13,435 | 7.30% |
Arrivals Jan-Sept Down
Country
2010
2011
Change %
Bangladesh
14,177
13,044
-8.00%
Spain
8,807
8,154
-7.40%
Netherlands
5,645
5,607
-0.70%
Austria
1,892
1,719
-9.10%
(Source:ekantipur)