One in two Nepalis has access to telephone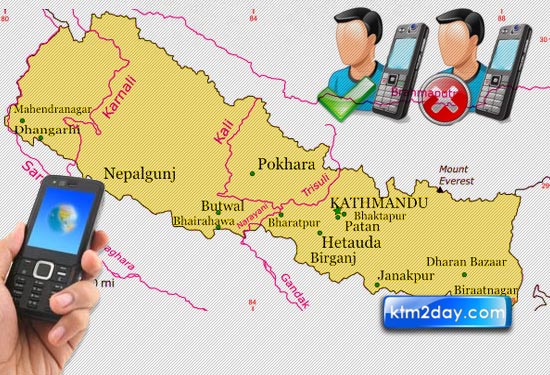 One in two Nepalis now has access to basic telecom services including mobile service. According to the Nepal Telecommunications Authority (NTA), tele-density has reached more than 50 percent from 1.47 percent a decade ago.
The latest statistics of the NTA show that the country's telecom subscriber base has increased to 13.51 million. According to a preliminary report of the National Population Census 2011, the country's total population is 26.62 million. "Based on the census report, telecom density has already crossed 50 percent," said NTA spokesperson Kailash Prasad Neupane. The NTA said that it would publish its management information system (MIS) report based on the latest population of the country from the next issue. Till now, it has been measuring tele-density on the basis of the projected population of 28.58 million.
Based on this figure, the country's total tele-density stands at 47.27 percent. Telecom density includes the penetration rate of 2.94 in fixed line, 41.70 percent in mobile service and 2.63 percent in the others category. Tele-density is the number of telephone lines per 100 inhabitants in a particular country or territory.
Ten years ago in 2001, Nepal's tele-density was 1.39 percent in fixed line and 0.08 percent in mobile telephony service. The increment over the last decade has been attributed to a rapid growth in the wireless communication sector following the entry of private operators. The tele-density was 0.1 percent in 1981 and 0.4 percent in 1991, according to International Telecommunication Union.
The GSM mobile service that was launched in 1999 by Nepal Telecom changed the whole scenario. Even though it was expensive earlier, the entry of private players brought a paradigm shift, making mobile service accessible and cheaper.
With three major players—Nepal Telecom, Ncell and United Telecom—fighting for supremacy, prices have become affordable leading to an increase in the subscriber base. Launching of pre-paid mobile service, reduced tariff resulting from competition and availability of cheaper handsets have played a big role in increasing the country's tele-density status.
Telecom experts said Nepal could achieve more provided there are sound policies and infrastructure sharing is done. "There is a huge potential for more progress in the sector by using the Rs 3 billion available in the Rural Telecommunication Development Fund and sharing infrastructure," said an official at the authority. "However, work on this front has not moved ahead as anticipated."
As of mid-August this year, mobile services are being used by 11.91 million people, fixed line service by 840,828 and 753,213 persons have subscribed to LM and GMPCAS services. Nepal Telecom has a total subscriber base of 6.83 million, Ncell 5.84 million, United Telecom 578,435 subscribers and three other small operators 252,026. (Source : ekantipur)