Nepal Airlines Corporation seeks 8 aircraft in grant from China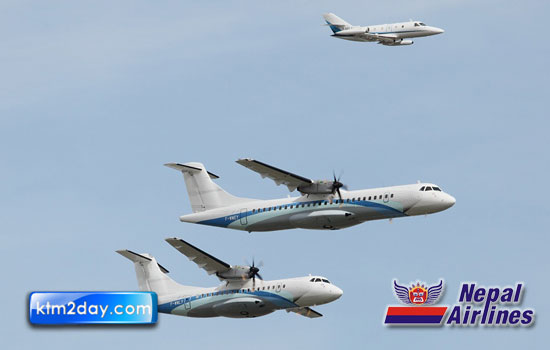 The government has requested China to provide eight small and medium-sized aircraft for Nepal Airlines Corporation (NAC). The Ministry of Finance (MoF) has written to the Chinese Embassy asking for eight planes from the northern neighbour as a grant. According to the MoF, the proposal was made as per the request of the Ministry of Tourism and Civil Aviation (MoTCA).
According to Finance Secretary Krishna Hari Banskota, the government has requested China to provide all eight aircraft as a grant if possible. "If it is not possible as a grant, we have also requested China to provide a soft loan," said Banskota.
In the first week of August, NAC had requested its line ministry, the MoTCA, to arrange new aircraft from China as a gift in a bid to bolster its domestic service.
NAC has sought five small (17-19 seater) and three medium-sized (50-70 seater) aircraft from China. The corporation plans to use the medium-sized aircraft for cross-border flights and the small ones on domestic routes.
The Canadian International Development Agency had donated seven Twin Otters to NAC from 1972 to 1979. Among them, only three are in the operation. According to NAC, two Twin Otters can be put back in service after maintenance. With only three Twin Otters in hand, the NAC is struggling even to survive in the domestic market. With private airlines dominating domestic aerospace, the NAC's market share in the first half of 2011 has declined by 3.5 percent. The NAC currently has just over three percent market share in domestic airline market.
Unlike private companies, NAC is more concentrated on remote areas where it has to offer services at subsidized rates. Hence, its domestic service is currently running at a loss. It has been incurring Rs 50 million in losses annually from each aircraft serving the remote sector. The corporation, to boost its revenue, has recently signed an agreement for charter services with private airlines.
NAC says if it gets more aircraft, it will be able to compete with private airlines and expand its services to more profitable sectors. Currently, it has no single flight on trunk routes where profitability is higher. (Source:ekantipur)