Tourist arrivals by air cross half-million mark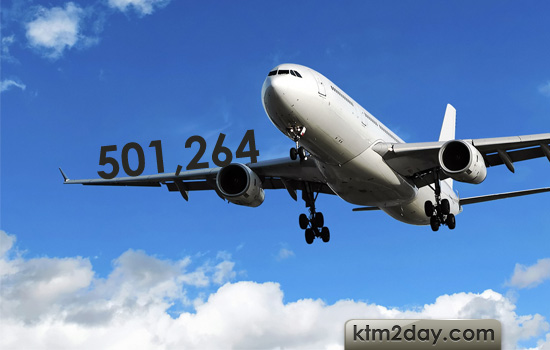 Tourist arrivals by air reached an all-time high of 501,264 in the first 11 months of Nepal Tourism Year (NTY). This is first time in the country's tourism history that air arrivals have crossed the 500,000 mark. The last time Nepal received so many tourists was in 2010 when 448,769 visitors flew into the country.
The year 2011 which is being observed as NTY has been encouraging in terms of strong arrivals growth from the two neighbours China and India. Though Indians traditionally make up the largest number of visitors to the country, a sharp increment in the arrival of Chinese tourists has immensely encouraged the domestic tourism market.
According to the figures released by the Immigration Office, Tribhuvan International Airport (TIA), arrivals from India reached 132,652, up 40.5 percent while Chinese tourists amounted to 40,244, up 74.4 percent. Travel trade entrepreneurs termed the growth an initial growth despite publicity in the international market. Hoteliers have also reported the highest revenue collection till date.
"We have recorded the highest revenue in the month of November," said Paras SJB Rana, general manager of the Hotel de l' Annapurna. According to him, high occupancy and high room rates have helped revenue growth. "Even though arrivals have been below expectations, the numbers should be considered impressive."
The country has targeted hosting one million tourists (700,000 by air and 300,000 by land) this year. The stats show that in the first 11 months, international visitor arrivals to Nepal averaged a growth rate of 21.5 percent. With improved arrivals, travel trade entrepreneurs said that the existing infrastructure was proving inadequate.
Ashok Pokhrel, president of the Nepal Association of Tour Operators, said that it was time to be serious about the existing infrastructure. The arrival figures in 2011 are initial figures and Nepal could see higher growth if the current trend continues. "The government should assess the weaknesses of NTY 2011 as it has also announced Visit Lumbini Year 2012 without any preparation," Pokhrel said, adding that the government and other tourism stakeholders should not only count the numbers but also correct the shortcomings of NTY and focus on high-end tourist markets.
According to the stats, Sri Lanka and Pakistan have registered growths of 16.6 percent and 16.8 percent respectively. Bangladesh witnessed a negative growth of 8.6 percent in the first 11 months of 2011.
Similarly, other Asian countries—Japan, Malaysia, Singapore and South Korea—have maintained their upward trend with growths of 7.5 percent, 12.1 percent, 13.8 percent and 15.2 percent respectively. Arrivals from Thailand jumped 22 percent in the first 11 months compared to last year.
(Source:ekantipur)