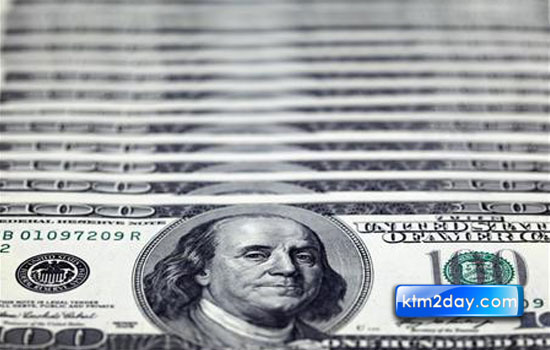 The freefall of Nepali rupee does not seem to stop, with the exchange rate for the domestic currency against the US dollar touching new lows almost every day.
First, the rupee plunged to an all time low of Rs 84.20 per dollar on November 23. It didn't stop there. It further lost its value against the greenback on Monday and again on Tuesday. On Monday, the Nepal Rastra Bank (NRB) fixed the exchange rate at Rs 84.30 per dollar for Tuesday, and breaking this record, the rate has been fixed at Rs 85.69 per dollar for Wednesday.
With the Nepali currency being pegged with India's, the devaluation of the Indian currency is one of the major reasons behind its freefall.
According to Indian media reports, the Indian rupee breached IRs 53 per dollar mark for the first time, tumbling to the historic low of IRs 53.51 on Tuesday due to sustained capital outflows amid compounding woes of Indian economy. Right after the reports that India's industrial output declined by 5.1 percent in October came out on Monday, the Indian rupee started losing its value. The Indian government last week slashed its economic growth forecast.
"We cannot do much to check the Nepali currency's freefall against dollar as long as our currency is pegged with India's," said Maha Prasad Adhikari, deputy governor of NRB. In the last three months, the exchange rate for the domestic currency has increased to Rs 85 against the dollar from Rs 72 in the first day of the current fiscal year. The market has already started to witness both positive and negative impact of the Nepali currency's devaluation. On the positive side, Nepal's foreign currency reserves touched an all time high of Rs 337 billion, up 24 percent compared to the end of the last fiscal year.
The strong dollar also boosted remittance inflow. Bankers said there has been a significant rise in remittance inflow in recent months. "We are experiencing 28 percent rise in remittance inflow month-on-month,' said a senior officer of Himalayan Bank. On the negative side, price of goods imported from third countries, including vehicles and IT related goods, have skyrocketed. As industrialists usually import raw materials in US dollars, they have said they have been forced to slash import quantity.
Other negative impacts of the strong dollar are the government has been forced to pay more for loan repayment and the Nepal Electricity Authority has to bear more loss as it has signed PPA with Bhotekoshi and Khimti power projects in dollar terms.(Source:ekantipur)